Budget - for millions or for millionaires?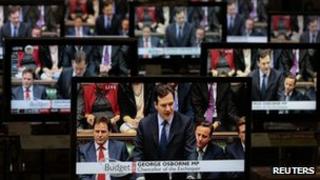 Never forget that the chancellor is from a family of gamblers, one of his friends told me.
On Wednesday George Osborne gambled that he could cut the tax rate for the richest because the official figures suggest it raises very little. He's raising other taxes on the wealthy and he's spending much more giving a tax break for those on lower and middle incomes.
Ed Miliband - also something of a spinner of the political roulette wheel, as his brother discovered - is gambling that this decision alone will destroy the coalition's claim that "we are all in this together".
Most people in the days after the Budget focus on how the chancellor's decisions affect them.
Millions of taxpayers will welcome the little more they can earn tax free. But millions of pensioners will see their tax allowance frozen.
Three quarters of a million higher tax rate payers will be breathing a sigh of relief that their child benefit is not, after all, being cut.
BUT millions hoping that their tax credits won't be cut or that fuel duty will be held down will be disappointed.
Smokers, company car drivers, drinkers of sports drinks and eaters of hot chicken on a spit will all lose a little.
Rich buyers of £2m houses or exploiters of tax reliefs will hurt but millionaires who aren't moving house or using those reliefs will get a very big tax cut indeed. Overall the Treasury's numbers only add up on the assumption that the money lost by cutting the top rate is offset by the gain of people moving themselves or their tax back into the UK.
The old political rules state that no-one can win an election promising to increase tax.
Will new rules be written that prove that no-one can win one by giving a tax break to the rich in an era of austerity.