Labour urge inquiry into Budget 'leaks'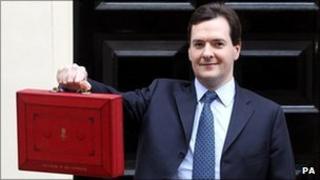 Labour have accused the government of "serious breaches" of the ministerial code over apparent Budget leaks.
Shadow minister Chris Leslie suggested Chancellor George Osborne had treated Parliament "as a peripheral afterthought" and urged a leak inquiry.
The Budget is traditionally secret before it is delivered but many of the announcements were widely predicted.
Mr Osborne has said coalition Budgets were about negotiation and the days of total secrecy were over.
But in the Commons, Exchequer Secretary David Gauke said given that the chancellor had already announced he would publish a report into the 50p tax rate that day, it was not surprising there had been widespread speculation about it.
"There were at least five different versions of what was going to happen on 50p and it was not surprising that one of them turned out to be correct," he said.
'Newspaper review'
He turned the tables on Mr Leslie and went through a list of measures in the 2005 Budget, when Labour was in power, which were accurately reported before then Chancellor Gordon Brown delivered his Budget speech.
On the issue of a leak inquiry he said the Treasury never commented on whether a leak inquiry would take place. But he said on "sensitive numbers" like the new 7% rate of stamp duty for properties over £2m, and the £9,205 figure for the new personal tax allowance "did not come from the Treasury... as far as I am aware".
But Mr Leslie said reports of the Budget had summed it up as being "more like a newspaper review than a Budget". He said: "Coalition government is absolutely no fig leaf for these very serious breaches of the ministerial code."
He said the rule book for ministers said big announcements should first be made to Parliament - and said it was "unacceptable" that the chancellor was treating Parliament with "utter contempt".
"Times are not so different that they give licence to the chancellor to fling around the contents of the Budget red box to any passing journalists, regardless of the consequences."
The one thing in the Budget which hadn't been published ahead of the speech was the "£3bn raid on pensioners", he said, "now dubbed the granny tax".
'Process of negotiation'
In the week running up to this year's Budget, it had been widely speculated that Mr Osborne would cut the 50p top rate of income tax on earnings over £150,000 and would raise the personal tax allowance to more than £9,000, so people kept more of their earnings before they start paying tax.
Senior Liberal Democrats, including Deputy PM Nick Clegg, had made it clear they wanted the Budget to do more on raising the tax allowance. And the chancellor himself confirmed on Sunday there would be a crackdown on legal stamp duty avoidance in the Budget.
Chancellor George Osborne told the BBC earlier: "Budget making in a coalition is different."
"Coalitions are inevitably a process of getting two parties to agree to a common plan.
"Inevitably the days when the chancellor of the exchequer dreamt this all up in secret, and shared it with the prime minister 48 hours before he delivered his speech, are gone.
"In a coalition it is an orderly process, it is a process of negotiation, and we came up with not a Conservative or a Liberal Democrat budget but with a coalition budget."