Cash for access: Political party funding talks 'to start soon'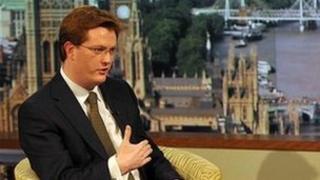 Cross-party talks over reforming political party funding will start shortly, says Lib Dem Danny Alexander.
The chief secretary to the Treasury said there would be a "short sharp series of discussions over the next few weeks under Nick Clegg's leadership".
The talks come after Tory co-treasurer Peter Cruddas quitfollowing newspaper revelationshe offered policy influence in return for donations.
Mr Alexander said it made the case for reform of funding "much stronger".
The coalition agreement drawn up between the Conservatives and the Liberal Democrats after the 2010 election vowed to "pursue" an agreement to "remove big money from politics".
There have been a number of attempts to reach a consensus on changes since 2007, but on each occasion talks have broken down.
And there has so far been a less than enthusiastic reaction to the report drawn up at the end of the inquiry by the independent Committee on Standards in Public Life last November.
Its chairman, Sir Christopher Kelly, told BBC Radio 4's Broadcasting Housethat its report made clear"that the only way to remove the suspicion surrounding very large donations would be to ban very large donations".
He said: "That requires all the parties to address something very hard. For the conservatives it means giving up their advantage of having more wealthy supporters. For Labour, the relationship with the trade unions."
The report suggested a ban on donations above £10,000, more taxpayer funding of political parties, and trade union members being given the choice of whether or not to donate to Labour.
Sir Christopher said: "All three of the major parties promised to end the 'big donor culture' in their manifestos for the last election.
"The promise also featured in the Coalition agreement. My Committee last autumn provided a blueprint for doing so which we believed to be both reasonably fair and sustainable and which, because we are an independent committee, was not distorted by thoughts of party political advantage.
"Nothing has so far happened. I imagine this is presumably because it requires all the parties to face up to some difficult issues which they would rather avoid. They should not be allowed to duck the issue any longer."
Deputy Prime Minister Nick Clegg told MPs last week that the government was committed to the reform of political party funding and said he had written to party leaders asking them to nominate someone to take part in cross-party talks which "should start shortly".
Mr Alexander said he was "very hopeful" the meetings would yield proposals.