Legal aid: Ministers' suffer two more defeats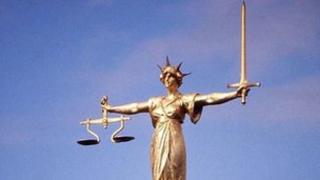 The government has suffered a further two House of Lords defeats over its plans to reduce the cost of legal aid.
Peers voted to protect payments for children in civil cases and in clinical negligence cases.
The reversals take the total number on the Legal Aid, Sentencing and Punishment of Offenders Bill up to 11.
Ministers want to save £350m on its legal aid bill by 2015, arguing it will also speed up the system. But opponents argue this will damage justice.
No other legislation introduced by the coalition government has brought more than the eight defeats ministers suffered over welfare reform.
Not since the previous Labour administration's identity cards plan was defeated 12 times six years ago have ministers been defied more often in the Lords over legislation.
'Unjust'
There is now a prospect of "ping-pong" between the Houses of Parliament, with the bill going back and forth until peers and MPs settle their differences.
In the latest votes, former Paralympic gold medallist Baroness Grey-Thompson's attempt to prevent cuts to the number of children entitled to legal aid succeeded by 232 votes to 220, a majority of 12.
The independent peer said: "Children are not adults. They do not have the capacity to represent themselves or to interpret the thousands of pages of laws and regulations that affect them.
"If we do not support this amendment we will be asking a child to go into the courtroom alone to argue his or her case against a barrister paid for by the taxpayer. It will be unjust and unfair."
Another amendment on clinical negligence, put forward by Conservatives Lord Cormack and Baroness Eaton, was passed by 228 to 215, a majority of 13.
The government had made a concession that would provide funding for cases of children who suffer brain damage up to the age of eight weeks old.
But Lady Eaton argued it was wrong to draw a distinction between different types of injury and to have a cut-off point.