'Keep police out' of cash for access row, ex-Met chief Yates says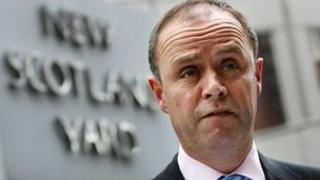 The police should "resist demands to get involved" in the so-called cash for access row, the officer who led the cash for honours inquiry has said.
Writing in the Daily Telegraph,former Metropolitan Police chief John Yates said pressure would "be brought to bear" on the police to investigate.
But he said it was a "poisoned chalice" the Electoral Commission should handle.
The probe into whether peerages were given in return for party donations ended without any charges in 2007.
Conservative Party co-treasurer Peter Cruddas resigned last weekend after he was secretly filmed saying that a donation of up to £250,000 would give "premier league" access to party leaders, including private dinners with Prime Minister David Cameron and Chancellor George Osborne.
He also appeared to suggest that with such access could come influence over policy decisions.
'Far from satisfactory'
Mr Yates resigned as Met Police counter-terrorism chief in July 2011 after being suspended for investigation of his handling of the phone-hacking scandal.
In an article for the Daily Telegraph on Wednesday, he said that "in the current risk-averse climate" pressure for the police to get involved in the cash for access row would be "difficult to resist".
"But they should resist demands for them to get involved. There is a body to deal with these issues - the Electoral Commission," he wrote.
"The commission has ample powers of its own to address potential breaches of this nature and should only involve the law in exceptional circumstances."
Mr Yates - who is now a police adviser to the government of Bahrain - said "the recent history of police involvement in matters such as this is also far from satisfactory".
"At a time when so many priorities are competing for attention, bringing the police into the latest scandal cannot be a sensible use of resources.
"Scotland Yard will not be relishing the prospect of being forced to take on this poisoned chalice."
'Bad smell'
The cash for honours inquiry saw Tony Blair become the first prime minister to be questioned in the course of a criminal police inquiry, as well as the arrest of his chief fundraiser, Lord Levy, and director of government relations, Ruth Turner.
All denied wrongdoing and no-one was charged.
Mr Yates said there was no evidence in 2006 of any agreement to exchange honours for money and predicted there would be no evidence that cash could buy influence in the most recent row.
"The bad smell is enough, though," he said. "Perception, as I know only too well, is everything."
When Mr Yates announced his resignation he said his conscience was clear but that "inaccurate, ill-informed and on occasion downright malicious gossip" had the potential to be a significant distraction in his role as the Met's head of counter-terrorism.
The Independent Police Complaints Commission later cleared him of misconduct over the phone-hacking affair, as well as allegations that he secured a job at Scotland Yard for the daughter of former News of the World deputy editor Neil Wallis.
Mr Yates later told the Leveson Inquiry he had been close to Mr Wallis - and attended football matches with him - but they did not have any improper conversations related to work.
He has, however, expressed his "extreme regret" over his decision not to reopen the hacking investigation despite fresh allegations emerging that thousands of public figures had been targeted.
On Tuesday, former Labour Justice Secretary Jack Straw called on the Electoral Commission to investigate whether Mr Cruddas may have broken laws barring the donation of money from foreign sources to UK political parties.
The Electoral Commission has yet to say whether it will consider the complaint.