Profile: London mayor Boris Johnson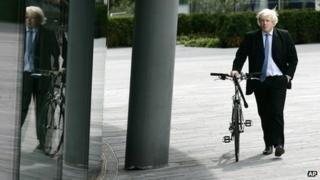 Despite being the Mayor of London Boris Johnson will still be known by many as "Boris", the gaffe-prone former MP, journalist and TV show host.
After his victory against the incumbent Ken Livingstone in 2008, the former Conservative MP became known for a number of eye-catching initiatives.
Days after his election he banned alcohol consumption on public transport, launched a central London bicycle hire scheme, now known as "Boris bikes" and ditched the 'bendy bus' in favour of a new generation hop-on, hop-off Routemaster double deckers.
However he has not been free of controversy, sometimes seen as critical of coalition government policy and often described as a rival to David Cameron.
Johnson was mayor in August 2011 when riots across England hit many areas of London. He returned from holiday although opponents criticised his initial delay.
He has claimed an increase in police numbers in the capital with a 10% decrease in crime although both statistics have been disputed by critics.
The re-launch of the routemaster bus too has faced attack. Opponents point out that first eight buses have cost more than £11m.
Although suffering a series of high profile resignations from City Hall, it was Sir Ian Blair's departure as the Metropolitan Police Commissioner which attracted most controversy. Sir Ian said he was stepping down because of a lack of support from Johnson.
However he has represented the city at a time of increased international interest through the build-up to the Olympics.
Leadership ambitions?
In his first term as mayor he criticised the 50p tax on top earners, said the British should have a referendum if asked to approve a new EU treaty and described the possible effect of housing benefit changes as "Kosovo-style social cleansing".
Some commentators have seen Johnson as a possible contender for the leadership of the Conservative Party although he has dismissed such suggestions.
In 2011 he told the BBC's Newsnight he did not expect to do "another big job in politics", quashing speculation that he would stand for Parliament so he could stand for the Conservative leadership saying there was "not a snowball's chance in Hades" of this happening.
His history of what critics describe as "gaffes" has been well publicised.
In 2004 he had to make a high-profile visit to Liverpool to apologise for an editorial in the Spectator which he then edited. The article had criticised the people of the city for their reaction to the death of Ken Bigley, the British contractor taken hostage and killed in Iraq.
The following month he was sacked by the Conservative leader Michael Howard for failing to tell the party the truth about claims he had an affair.
He attracted the attentions of the media at the Conservative Party conference in 2006 when he attacked healthy eating advice advocated by the chef Jamie Oliver. He said he would like to "get rid of [him] and tell people to eat what they like".
Later he provoked anger in as varied places as Portsmouth and Papua New Guinea; describing Portsmouth as "too full of drugs, obesity, underachievement and Labour MPs", and associating Papua New Guinea "with orgies of cannibalism and chief-killing".
He attracted attention at the ceremonial passing of the Olympic flag from China to the UK in 2008 saying: "I say this respectfully to our Chinese hosts, who have excelled so magnificently at ping-pong. Ping-pong was invented on the dining tables of England in the 19th century and it was called wiff-waff."
'One-man melting pot'
Alexander Boris de Pfeffel Johnson was born in New York and he held US citizenship until 2006.
Descended from Turkish, French and German stock he describes himself as a "one-man melting pot". His great-grandfather, Ali Kemal, briefly served as an interior minister in the Ottoman Empire.
His education was more typical of an upper class British politician, schooled at Eton College and Oxford University - where he was President of the Union.
His career has proved no less colourful.
After only a week as a trainee management consultant he moved to journalism. Fired from the Times for making up a quote, he then worked for the Wolverhampton Express and Star before joining the Daily Telegraph, working as their Brussels correspondent and assistant editor.
In his seven years as an MP he enjoyed more media attention than many of his front bench colleagues although he did not make the shadow cabinet himself. He was appointed a vice-chair of the Conservatives and held a couple of shadow junior ministerial posts before he stood down to become mayor.
Mr Johnson has never been far from the media spotlight and that did not change in his close-fought rematch of the Boris and Ken battle for Mayor.