Profile: London mayoral candidate Brian Paddick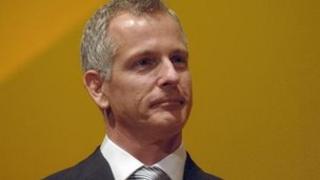 Policeman-turned-politician Brian Paddick is making a second stab at becoming the Liberal Democrat London mayor.
Having served more than three decades for the Metropolitan Police, Mr Paddick ran against both Boris Johnson and Ken Livingstone in 2008, coming in third.
Famous for a "softly softly" approach to policing in Brixton, he pursued prosecutions for use of other illegal drugs but not cannabis. It was a policy which earned him the nickname "cannabis cop".
But he has vowed to get tough on criminals if elected, establishing a "Payback" programme which would see those convicted made to work full days, contributing to society.
Reality television
London born and bred, Mr Paddick began his service with the Met Police as a beat constable in Holloway, north London, and later served in Lambeth, Fulham, Lewisham, Croydon, Notting Hill and Merton.
Later, at Scotland Yard itself, he rose to the rank of deputy assistant commissioner - and in the process became the most senior officer in any UK police force to be openly gay.
He was official police spokesman in the aftermath of the 7 July bombings in 2005, but left in 2008, according to his mayoral website, over the shooting of innocent Brazilian Jean Charles de Menezes at Stockwell Tube station.
Mr Paddick subsequently gave evidence at the de Menezes inquest on behalf of the dead man's family.
After his defeat in the 2008 mayoral race, he took a break from politics and appeared on the popular ITV reality television programme "I'm a Celebrity, Get Me Out Of Here".
Leaving the jungle upon his eviction - and as the sixth celebrity to leave - Mr Paddick said: "For a long time I've been doing serious stuff. Thirty years in the police and running for mayor... So I thought why not come and do something trivial.
"It's the hardest thing I've ever done in my life, anything after this is a breeze."
In 2010, Mr Paddick appeared on Channel 4's alternative election night special of Come Dine With Me alongside former Conservative MP Edwina Currie.
Most recently, he entered the phone-hacking fray, having been a victim himself.
He has been highly critical of both News International and his former employers, using his appearance at the Leveson inquiry into press standards to criticise the Met's handling of the affair.
Stop and search
Unsurprisingly, pledges on policing feature prominently in Mr Paddick's mayoral manifesto.
Instead of sitting "in a cosy prison cell", he wants offenders back in the areas where they committed their crimes, cleaning up graffiti, repairing broken fences and picking up litter.
He also wants to overhaul the way the Met handles rape cases, retraining officers in how to treat victims and appointing representatives of support groups to the mayor's policing and crime advisory board.
Elsewhere on crime and disorder, he has promised to end "racist stop and search" and vowed to remove the power to make such a stop from any officers who "misuse" it.
On other policy matters, Mr Paddick has a couple of transport policies likely to prove popular with commuters.
He says he'd introduce a one hour bus ticket, allowing passengers to hop on and off several services on a single fare, and offer earlybird discounts for people who travel before 7.30am.
On the contentious issue of Heathrow, Mr Paddick is opposed to expansion, arguing that existing capacity could be used much better by focusing on long rather than short-haul destinations.
He has also rubbished Mr Johnson's idea of a new airport in the Thames Estuary.
Finally, he has promised "a massive housing building programme" and a new London Housing Company whose job it would be to match public land with private investment.
Mr Paddick says his unique selling point is that he is the only mayoral candidate "with the experience to make London safer".
But back in 2008, he admitted he lost because he was "mercilessly squeezed between two political monsters" - the same two monsters he finds himself up against once again.