Bradford West: Voters choosing new MP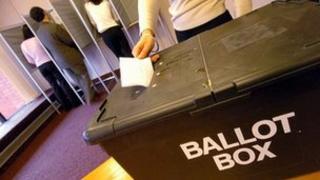 Voters in Bradford West are going to the polls in a by-election to choose a new MP following the resignation of Labour's Marsha Singh.
There are eight candidates for the seat, vacated by Mr Singh on health grounds.
The weather is expected to be sunny, with temperatures reaching a high of 17C.
Polling stations opened at 0700 BST and close at 2200 BST, with the result of the ballot expected early on Friday.
Mr Singh, MP since 1997, held Bradford West for Labour at the 2010 general election. The Conservatives came second and the Liberal Democrats third.
There are eight candidates in the by-election:
Neil Craig - Democratic Nationalists
George Galloway - Respect
Howling Laud Hope - Monster Raving Loony Party
Imran Hussein - Labour
Dawud Islam - Green Party
Sonja McNally - UK Independence Party
Jeanette Sunderland - Liberal Democrats
Jackie Whiteley - Conservatives