Cameron promises more choice on schools and hospitals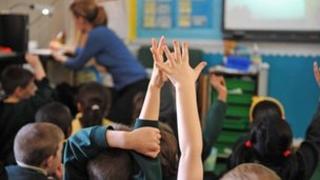 The right to choose a particular school or hospital will be enshrined in law, if new legislation announced by Prime Minister David Cameron is passed.
Probation services, children's centres, and fire and rescue services could also be provided outside of what the PM called "big state structures".
The ideas are part of his mission to end "once and for all the closed, state monopoly" on public service provision.
But the TUC said the plans were a cover for "wholesale privatisation".
Writing in the Daily Telegraph,the PM said he would not rest until the job of "opening up" public services was done.
Neighbourhood councils
He announced an independent review to establish how choice could be extended, especially to those in disadvantaged groups, and draft legislation -an update to the Open Services White Paper- to put choice on a legal footing.
"If your mother needs hospital treatment, or your child is about to start school, you will get a choice over where they go," he wrote.
"And if that choice doesn't exist, or you're not happy with it, you will have a way to get your complaint properly and fairly listened to - and resolved."
The prime minister also set out plans to create more "neighbourhood councils" to give residents a greater say in how local services are run, and by whom.
He wants more public sector staff to form mutual organisations and take over the running of services - which the White Paper says will "free up the often untapped entrepreneurial and innovative drive of public sector professionals".
But TUC general secretary Brendan Barber said: "People want good quality, accessible public services that are free at the point of use, not a confusing array of private providers to choose from.
"The changes risk increased fragmentation, a muddying of the lines of responsibility, with the winners those who can afford to shop around for services and the losers those that can't - the most vulnerable in our society."
Tom Gash, from the The Institute for Government - a charity which aims to make government more effective - said a legal right to choose was likely "to prove unworkable in practice". He said the government "would need to specify precisely the degree and type of choice that should be provided in each service area".
"Do I have a choice of schools, for example, if I live in a remote area and the second nearest school is 30 miles away? Do I have a choice of meals-on-wheels provider if I get two options to choose from and I don't like either of them?"