Profile: London mayoral candidate Jenny Jones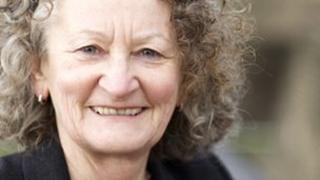 Green Party candidate Jenny Jones is a long-standing member of the London Assembly who wants radical reductions in both inequality and carbon emissions.
A former archaeologist, she spent 10 years studying Middle Eastern carbonised plant remains before entering politics.
Her CV also boasts experience as a financial controller, a Southwark councillor, and London's deputy mayor, under Ken Livingstone.
She has vowed to introduce a pay-as-you-drive charging scheme, and impose a 20mph speed limit across much of the capital if elected.
But she insists her manifesto goes beyond what might be seen as classic Green issues - with pledges on business, jobs and housing.
'Bad business decision'
Divorced with two grown-up daughters, Ms Jones has been a fixture on the London political scene for more than a decade.
She has hit out at incumbent Mayor Boris Johnson's record on cycling safety, and was the first candidate to sign up to London Cycling Campaign's "Go Dutch" strategy, which is pushing for better provision of cycle lanes.
She has also declared that the recent multi-million pound investment in new Routemaster buses was a "bad business decision" as the money would have been better spent on a larger number of less-polluting buses.
In fact, she wants the entire fleet of London buses to be converted to low-emission models by 2016 - and accuses both Ken and Boris of doing precious little to tackle air pollution, which is "bringing early deaths to many Londoners".
Despite that criticism of Mr Livingstone, she seems - of all her mayoral rivals - most closely aligned with him, urging Green voters to name him as their second choice on the ballot paper.
She says she relished the opportunity to work as his deputy from 2003, bringing as it did the "privilege" of speaking on his behalf at events as varied as the Gay Pride march and "terrifying business audiences".
Robin Hood tax
On money matters, Ms Jones says Greens are "excellent at spending money because we have so little we expect to get best value for it".
Nevertheless, she has committed to a number of policies that would seem to demand big spending - including a pledge to cut Tube and bus fares, and to reinstate Education Maintenance Allowance, scrapped by the coalition government.
When a councillor in Southwark between 2006 and 2010, she introduced a London living wage and has also pledged to extend that if successful on 3 May.
She says she would pay for these moves by, among other things, scrapping public subsidy for the Routemaster buses, and upping the congestion charge.
She also backs a "Robin Hood tax" on banks, arguing that societies are happier when the disparity in their citizens' wealth and income are smaller.
As member of the London Assembly committee in charge of scrutinising the police, Ms Jones also has opinions on keeping the capital safe.
'Nutty'
But in a reversal of the traditional politician's refrain, she believes there has been too much emphasis on boosting the number of front-line officers and there is now a dearth of back-office staff to support them.
She argues too that the Metropolitan Police's use of stop-and-search powers betrays a "poor record" on civil liberties.
Before entering the political fray - and having only gone to university to study archaeology at the age of 41 - Ms Jones worked in the heat and dust of Jordan, Egypt, Syria and Turkey excavating plant remains.
She says one can learn a lot about a society by studying the plants its people use and eat.
"The theory that food allergies are mostly linked to newer foods, like milk and wheat, because we've only been eating them for a few thousand years, seems sensible to me," she says.
"Adaptations take a long, long time."
While she admits to being used to labels like "mad" and "nutty", she insists her party's ideas are the future - and says she believes they are the only option if London is to be sustainable in the long term.