Disaster fund to encourage new solutions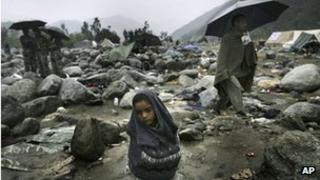 The Department for International Development is to announce a fund this week to encourage new solutions to assist after natural disasters.
Examples of the kind of projects it will support include an app to help reunite missing families, and using satellites to produce quick maps.
Others are radio stations and mobile networks which are quick to set up.
The move follows predictions that the number of people affected by disasters will rise to 375 million by 2015,
The BBC's International Development Correspondent, David Loyn, said: "Among the first people that Britain now sends in response to earthquakes, such as in Haiti, are map-makers, who, working alongside fire officers camping in the rubble, quickly print maps from satellite images, so that rescuers know where to go.
"It is this kind of 21st century technology that the government wants to encourage with new funding."
Our correspondent says the innovation the DfID is looking for is not all computer-based.
The fund will assist the development of buckets that can be filled with clean water and sealed, and lightweight collapsible wheelchairs.
With the world expected to face more natural disasters in the years to come, affecting many more people than before, International Development Secretary Andrew Mitchell said the response had to improve - and harnessing new technology was one part of the solution.