Birmingham mayor hopeful rejects ban on Labour MPs standing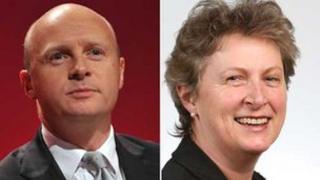 A former Labour MP who quit his seat to stand as an elected mayor has said those still in Parliament should also be able to run as candidates.
But Sion Simon, who wants to be Birmingham's mayor, said any who were successful could pay for the resulting by-election in their constituency.
Two sitting Labour MPs - Liam Byrne and Gisela Stuart - both want to run against Mr Simon.
But there have been reports that senior Labour figures are opposed to the move.
Birmingham is one of 10 cities due to hold a referendum on 3 May on whether to have a directly-elected mayor. Those cities where a majority vote Yes will hold elections later this year.
'Nervous'
Mr Simon resigned as Labour MP for Birmingham Erdington before the 2010 general election to concentrate on becoming the city's first elected mayor. He was replaced as MP by Jack Dromey, shadow communities minister and husband of deputy Labour leader Harriet Harman.
Now he is facing competition from Mr Byrne, who has said he will quit as shadow work and pensions secretary if there is a Yes vote on 3 May and will then run for mayor.
Under Labour rules, he will be expected to step down as an MP if he wins the party nomination in June. This would trigger a by-election in his Birmingham Hodge Hill seat.
Mr Byrne has been joined in the race by Birmingham Edgbaston MP Ms Stuart, while other Labour politicians, including Coventry MP and former Defence Secretary Bob Ainsworth, have also expressed interest in standing in other cities.
But some senior Labour figures, reportedly including Ms Harman, are said to be opposed to the idea, in part because of the cost involving in fighting by-elections.
They also reportedly fear the possible loss of some safe Labour seats following the surprise success of the Respect Party's George Galloway in the Bradford West by-election.
Writing in the Birmingham Post, Mr Simon said he understood the logic behind a possible ban: "By-elections can cost hundreds of thousands of pounds and are a huge diversion of party activist and staff time and energy. So the prospect of a dozen all over the country is making Labour high command nervous.
"Talk has been widely reported of disbarring sitting MPs from standing - which is what should have been done in the first place."
But Mr Simon said it was now "too late" to impose such a ban: "If Labour MPs were now prevented, only a few weeks before the selection process begins, from seeking mayoral nominations, our enemies would use it against us. And we would deprive ourselves of some good candidates.
"Sitting Labour MPs should now be allowed to stand. They should sign undertakings to abide by the result and not to run as independents if they lose, and perhaps also to repay to the Labour Party and the Exchequer the cost of their by-elections if they win."
Commenting on the possibility of a ban on MPs being allowed to seek nominations, a Labour source told the BBC: "These reports are highly speculative and therefore we are not going to comment. Labour will fight every by-election with a determination to win."