VAT rise 'could jeopardise Church renovation projects'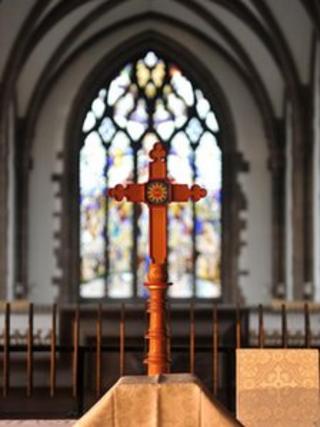 The Church of England fears church renovation projects could be scrapped because of planned changes to VAT set out in the Budget.
From October this year the Treasury will charge VAT at 20% on approved alterations to listed buildings - work which is currently exempt from the tax.
The Church thinks the change will cost it £20m a year.
The Treasury says funding will be available to ensure church renovations are not cancelled.
Shadow Culture Secretary Harriet Harman has said Labour will oppose the proposed change when the Finance Bill is debated in the Commons in the next few days.
"Listed buildings are our country's heritage - our past and our values built into bricks and mortar," she said.
"The government's plan to scrap the zero-rating for approved alterations, alterations which will allow them to continue serving their communities, threaten their future as well as their past."
A spokesman for the Church of England added that it was "a very definite problem."
The Church is responsible for 45% of the country's Grade 1 listed buildings.
Many of them are in urgent need of modernisation. Ramps for disabled people, level, even flooring and new catering facilities, for instance, can currently be added, free of VAT.
But that will change in the autumn.
It has led the wife of the Dean of Wakefield, Pamela Greener, to sing from a rather unconventional hymn sheet.
She has uploaded a video to YouTube in which she sings a song about the cathedral's plight .
The building work at Wakefield Cathedral started just a few days before the budget. It will cost around £3m, but they could now face an extra bill for several hundred thousand pounds for VAT.
"I've had a career in tax and I know from experience that people's attention span on matters of taxation is measured in nanoseconds," Mrs Greener told the BBC when asked why she had recorded the song.
"This is a tax raid on the nation's heritage.
"This hits those listed buildings that need expensive work done on them to equip them for community use, and to ask an extra 20% on top of those already inflated bills because we have to use the best materials and the most skilled craftsman, it ratchets up the degree of difficulty of getting projects like this off the ground," she added.
A source close to Chancellor George Osborne told me this was about ensuring a millionaire wanting to build a swimming pool in the garden of their listed mansion had to pay VAT on it.
And he insisted it was not about clobbering churches. There will be support to ensure church renovation projects do not get cancelled, they argue.
Money will be available, the Treasury says, from the Listed Places of Worship Scheme.
But Labour is sceptical and some within the Church fear this will not be enough to cover the new tax bill.
This spat with the Church joins a queue of grumbles following last month's budget.
There was a row about VAT on hot snacks, dubbed the "pasty tax".
There was another about VAT being levied on static caravans, not to mention the debate in the last few days surrounding tax relief on charitable donations.
The political skirmishes just keep on coming for the government.