Green Party launches local election campaign ahead of May poll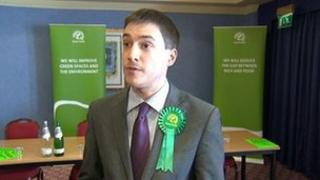 The Green Party has launched its local election manifesto, promising to reduce the gap between rich and poor and create jobs.
The party is fielding more than 900 candidates in England and Wales and is hoping to make gains, especially in the West Midlands.
Deputy leader Adrian Ramsay said the Greens would cut fuel bills, expand the living wage and protect public services from government cuts.
Voters will go to the polls on 3 May.
Council elections will be held in England, Scotland and Wales, while there are a number of mayor-related votes, including Londoners choosing their next directly-elected mayor.
Referendums will be held in other cities to decide whether to have a directly-elected mayor in the future.
'Firmer footing'
Speaking at the party's launch in Solihull, Mr Ramsay said support for the Greens was "growing consistently year on year".
He outlined the key points in their manifesto, including:
wider implementation of the living wage, which is higher than the minimum wage - it is currently £8.30 in London
a ratio of no more than 10 to 1 between the salaries of the highest and lowest paid employees within a council
more investment by local authorities in projects like solar panels and insulation
"At this election, the Green Party's saying that we need to reduce the gap between rich and poor, we need to be creating jobs that will last, and we need to be protecting services from government cuts," Mr Ramsay said.
"We're seeing people losing their jobs at a time when we could be creating jobs in areas like renewable energy, public transport - areas that will help reduce people's fuel bills, as well as reducing carbon emissions, and put our economy on a firmer footing.
"And local councils have a key role to play, both in job creation and in reducing the gap between rich and poor."
The Scottish Green Party also launched its manifesto on Monday, saying it expected its number of councillors to "swell".
Among its policies is a free bus pass scheme for under-16s aimed at encouraging them to develop public transport "habits" at an earlier age.