EU climate change 'worse for women' claim row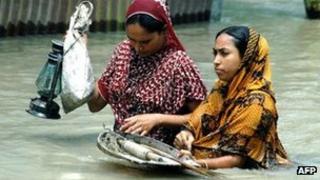 A new report from a European Parliament committee has prompted scathing criticism from Conservatives with its suggestion that women will be more at risk from climate change than men.
"Global warming is not some male plot to do women down. The climate is the same for males and females, so far as I know. When it rains we all get wet."
This is how a British Conservative MEP, Marina Yannakoudakis, has responded to a report published by the women's rights committee, of which she is a member, at the European Parliament.
Her fellow committee members have gone "bonkers", she suggests.
The report, entitled "Women and Climate Change", is being championed by German Green MEP Nicole Kiil-Nielsen.
High mortality rate
It concedes that the link between gender and climate change may not be "immediately obvious".
But it asserts that climate change is already increasing levels of forced migration, as refugees flee areas in "environmental decline".
In such circumstances, women are more vulnerable than men, it points out: "Women are the main victims of sexual violence, make up 80% of the world's refugees and displaced people, and the excess mortality rate for women in situations arising from natural disasters is up to five times higher than that for men."
Although Mrs Yannakoudakis voted against the report, a majority of the committee agreed that the world's poorest people are disproportionately women, who "carry out two-thirds of all work done but own less than 1% of all goods", supposedly rendering them less able to adapt to a changing climate.
Another suggestion in the report proved to be especially unpersuasive to the Conservative MEP.
'Patronising'
"The proportion of women in political decision-making and especially in climate change negotiations is still unsatisfactory and little to no progress has been made," the committee laments.
It therefore recommends that quotas should be introduced to ensure that at least 40% of EU climate negotiators are female.
Mrs Yannakoudakis dismisses the notion, highlighting the crucial role played at the Durban climate-change conference by two women: EU Climate Action Commissioner Connie Hedegaard and India's Environment Minister Jayanthi Natarajan.
She also points out that the conference was chaired by "an equally strong woman": South Africa's Minister of International Relations and Co-operation, Maite Nkoana-Mashabane.
"Calling for quotas is an insult to the women who are already making a huge difference in the field of climate diplomacy, politics and negotiation," Mrs Yannakoudakis retorts.
She concludes: "This is the kind of thing that gets the EU in general - and the Women's Rights Committee in particular - a bad name.
"It would be comical if the people behind the report were not so earnest and its proposals not so patronising to women."
Meanwhile, the report declares: "We can only improve our understanding of the links between women and climate change through a willingness to do so."
MEPs will vote on whether they agree with Mrs Yannakoudakis or the report on Friday morning, at the plenary session in Strasbourg.
But the result of the vote is unlikely to settle the argument.