Doubts over MoD jet order for aircraft carrier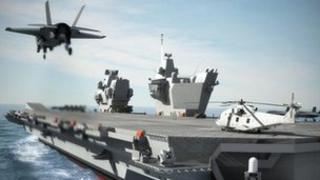 Military planners have raised concerns ministers may order inferior jets for the navy's new generation of aircraft carrier to save money.
Ministry of Defence papers seen by the Daily Telegraph suggest doubts about the capabilities of the jump jets ministers are said to be considering.
The government had previously signalled its intention to buy the carrier version of the Joint Strike Fighter - felt to be the superior one.
The MoD said no decision had been made.
Labour had originally planned to buy the jump jet version for the Royal Navy aircraft carrier, the F35B. But that decision was reversed by Prime Minister David Cameron who argued that the carrier version, launched by catapult - the F35C - was the better plane, with a longer range and able to carry more weapons.
Since then, the costs of fitting catapults to the carrier have spiralled and there is speculation the government is to revert to the jump jet version.
A classified document seen by the Telegraph compares the two planes in a range of military scenarios, ranging from intervening in the Falklands to striking terrorist camps in Chad and a stabilising operation in Saudi Arabia.
The document finds the carrier version proves more effective in most cases.
It suggests the wrong decision over which plane to purchase might have been taken.
However, the MoD insists such scenarios are purely hypothetical and it says no decision has been taken on which plane to buy.
BBC defence correspondent Jonathan Beale said the leak of this confidential document "will prove highly embarrassing for the government" which appeared "on the verge of a U-turn over which plane to buy".
Elizabeth Quintana, head of airpower at the Royal United Services Institute, told the BBC whatever variant was chosen, the Joint Strike Fighter would be "much more capable than anything else on the market," she said.
"It's a highly political decision, lots of people have a stake in it," she said. "The main thing is that we get one of the variants and the Ministry of Defence will be very happy whichever way the decision goes."
She admitted that there were some ways in which the jump jet was inferior, and that cost was a factor but said she had no doubt that whichever was chosen, it would be used as effectively as possible.
"It is less capable in certain areas - it has less range and less loiter time as the jump jet has less fuel capacity, but we've used our Harriers in areas of the world like Afghanistan with no runways or airstrips, so you can use different variants in different ways.
"The military are very good at squeezing the best capability out of the assets they have, so whichever variant we get, it will be a fantastic plane."