Legal aid bill survives Lords domestic violence challenge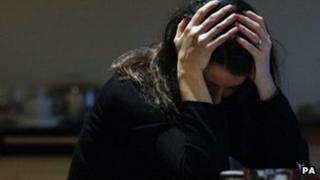 The government's controversial bill cutting legal aid in England and Wales has survived a last-ditch attack in the Lords and is now set to become law.
Peers tried and failed to amend those parts of the bill that apply to victims of domestic violence.
After a parliamentary passage that saw it defeated 14 times in the Lords, the bill now awaits Royal Assent.
Labour peer and former attorney general Baroness Scotland had argued that women could die as a result of the changes.
But despite that warning, the House of Lords backed ministers by the narrowest of margins, with 238 votes on each side - a tie means a victory for the government.
Peers have previously inflicted 11 defeats on ministers over the Legal Aid, Sentencing and Punishment of Offenders Bill, but last week MPs overturned all their changes.
'Too late'
Lady Scotland called for the removal from the bill of a 12-month time limit within which anyone seeking legal aid to bring cases of domestic violence must claim.
Campaigners say this is inadequate because many victims wait years before reporting their abusers.
Lady Scotland said: "It will be too late to say 'We are sorry' when we find that because we didn't give legal aid in relation to ancillary and other proceedings to victims who are genuine... that there were people who died.
"This isn't a case where we can say, 'We don't know, we hope it won't happen.'
"We have the empirical data - over the last 30 years we have learned those lessons."
But Justice Minister Lord McNally said the government had "listened and learned from what Lords and MPs said about our proposals" and amended them.
He said ministers "absolutely agreed" that domestic violence victims should receive legal aid and the latest deal was "now worthy of support".
He said the coalition had agreed to widen the bill's definition of domestic violence - as requested by chief police officers - and legal aid would still be available where courts decided it was needed, "even in older instances of domestic violence".
"This package represents significant movement by the government," he added.
On Tuesday, ministers agreed a concession to the legal aid bill for sufferers of asbestos-related cancers.
They will be exempt from changes to no-win, no-fee legal claims until a review is carried out into the impact of the moves.