Ministers consider changes to parliamentary privilege law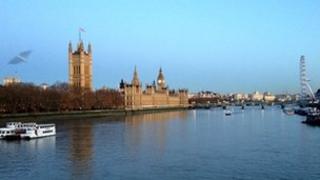 Legal protections enjoyed by MPs are being reviewed and may need to change, the government has said.
Parliamentarians are protected by laws of "privilege" for actions that would leave other people liable to criminal prosecution.
The government has launched a consultation on how to "prevent the possible misuse" of these rights.
But ministers believe that MPs' freedom of speech must be maintained.
During the expenses scandal three MPs and a peer sought to argue that they could not be prosecuted in court because they were covered by the centuries-old principle that courts may not challenge Parliament's right to govern itself.
'Core functions'
Their bid failed and they were convicted, but the government wants to know whether a "legislative definition of proceedings in Parliament" would provide clarity in such cases.
In a foreword to the Green Paper, Commons leader and Conservative MP Sir George Young and his Lib Dem deputy David Heath say: "Parliamentary privilege is little understood outside of Westminster, and the connotation of the word 'privilege' is unfortunate in its suggestion of special treatment for Members of Parliament."
They said it was "reassuring" that the MPs' bid to escape prosecution failed as it "showed that privilege is only intended to provide protection in relation to the core functions of Parliament".
But, they added, the case "served as a reminder that even the most durable of constitutional tenets should periodically be reviewed".
Ministers do not plan to make any changes to the protections of parliamentarians from civil cases.
It is not possible to sue an MP for comments made in a Commons debate that would be defamatory if spoken elsewhere, for example, and the government believes this protection should be retained.
Parliamentarians' right to defy court injunctions intended to guarantee anonymity should also be respected, ministers maintain.
In one recent case, an MP used parliamentary privilege to name a footballer who had taken out a super-injunction to protect his identity - but the government does not believe the law needs to be changed in the light of this and similar cases.
The government is also seeking views, in a Green Paper and consultation document , on whether legislation would help select committees to use their powers to summon witnesses and punish people for submitting misleading evidence.
In Scotland, Ireland and Wales, witnesses who refuse to attend select committee hearings can be jailed but the law is less clear at Westminster where, the Green Paper notes, the "power to punish non-members for contempt is untested in recent times".
"The government is not convinced that custodial sentences are appropriate for these kind of offences, as it believes that they should be reserved for the most serious, violent or persistent offenders," the Green Paper says.
But it adds: "If a custodial sentence were not included this would mean that failing to appear before a select committee in Westminster would attract a lesser sanction than refusing to appear before a committee of one of the devolved assemblies; this does not seem satisfactory."
Inciting terrorism
The Green Paper also proposes removing a number of privileges MPs and peers currently enjoy - such as their right to avoid appearing as witnesses in court cases.
At the moment, they do not have to comply with orders requiring them to attend court as a witness. This is because their duty to attend Parliament is meant to trump all other obligations but there are cases of MPs abusing the privilege, the Green Paper says.
MPs and peers are also exempt from "speech" laws - such as incitement to racial or religious hatred or encouragement of terrorism - in order to protect freedom of expression.
The government believes this should continue - but an exception should possibly be made for parliamentarians who incite specific acts of violence or terrorism.
"It is in theory currently possible in proceedings in Parliament for a speaker to incite or encourage any criminal act, not just in abstract terms but directly and specifically," says the Green Paper.
There is also some doubt about whether members of the House of Lords can be detained under the Mental Health Act. The law applies to MPs but no specific provision was made for peers.
Some legal experts say that "for the avoidance of doubt" a law should be passed to explicitly apply the Mental Health Act 1983 to peers - but this argument has been rejected by the government which does not accept that a loophole exists.
The government plans to set up a joint committee of both Houses of Parliament to decide on any changes, once the consultation process has finished.