Permanent Secretary 'stonewalls' MPs over Jeremy Hunt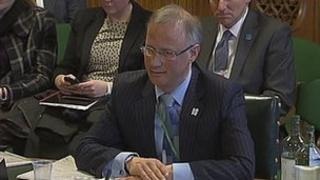 A senior civil servant has refused at least 10 times to answer questions about his role in the row over Culture Secretary Jeremy Hunt and News Corp.
Permanent Secretary Jonathan Stephens was asked by the Public Accounts Committee about guidance he gave to Mr Hunt's special adviser Adam Smith.
But while he referred repeatedly to statements by Mr Hunt and Mr Smith, he insisted he "must rest on that".
Labour MP Nick Smith accused him of "stonewalling" on the issue.
Mr Hunt is facing calls to quit after details emerged about contact between his office and News Corp during its takeover bid for BSkyB.
He told the Commons on Wednesday that contact was made by Mr Smith after he was given the role of liaising with the firm by Mr Stephens.
Following his statement to the House, Mr Hunt was asked by five different MPs who had authorised that appointment, and in his replies, he said repeatedly it had been Mr Stephens.
Answering Labour MP Gerry Sutcliffe, he said: "His role was agreed by the permanent secretary, but he was not the only person [to have contact with News Corp]; we had contacts on all sorts of levels."
Replying to Labour's Diana Johnson later, Mr Hunt said: "I do not think there was any process of me asking for certain people to play certain roles.
"As I said, I think it was a more fluid process than that, but the permanent secretary approved the processes that were happening."
Mr Smith resigned on Wednesday saying his contact with News Corp "went too far".
'Extremely odd'
Mr Stephens was appearing before the PAC to discuss Olympic funding, but before that, Labour MP and chairman Margaret Hodge attempted to ask him about his involvement in the Hunt affair.
He replied: "I think I just need to say, madam chair, that I have come along to answer questions about Olympic costs.
"The Secretary of State made a full statement to Parliament yesterday. He has made it clear that he's providing full written evidence and is looking forward to providing oral evidence to the Leveson Inquiry.
"There was a statement by the special adviser yesterday which made it clear that he accepted that the nature and content of those contacts was not authorised by the Secretary of State nor by me.
"I think that is the right forum for those matters to be answered."
Ms Hodge pressed him again, repeatedly, suggesting it was "extremely odd" that he would have approved a liaison role for Mr Smith.
At one point she accused him of "not answering the question".
He refused to be drawn, referring time and again to the statements already made, and written and oral evidence that Mr Hunt would produce when he appeared before Leveson.
'Crucial role'
During a 10-minute exchange, several others MPs also interjected and attempted to ask Mr Stephens the same question in a different way.
Mr Smith told the permanent secretary: "You don't need to stonewall on this.
"Did you do a guidance note to Mr Smith on his crucial role?"
In reply, Mr Stephens again referred to earlier statements and said: "I think I need to stand on that without any implications being drawn whatsoever.
"I was not given any notice of these questions."
At one point, Mr Stephens said he accepted his role in the row was "a legitimate subject of public interest and scrutiny", but it was for the Leveson Inquiry to decide whether to ask about it.
Later, a spokesman for the culture department said: "The permanent secretary did not feel it was appropriate to provide further information ahead of the department's evidence to the Leveson Inquiry.
"As Jeremy Hunt's statement yesterday made clear, the permanent secretary was aware that Adam Smith was amongst a small number of individuals in the department who were in contact with News Corp and was content with that arrangement."
The BBC's deputy political editor James Landale said government sources were emphasising that Mr Stephens was not trying to distance himself from Mr Hunt by refusing to answer questions.