Hunt 'influenced by Murdoch rhetoric' says ex-BBC boss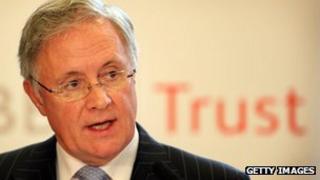 Jeremy Hunt was "influenced" by James Murdoch over his decisions on the BBC's future funding, it has been claimed.
Ex-BBC Trust chairman Sir Michael Lyons said the culture secretary was coloured by BSkyB's interests during talks over the BBC's licence fee in 2010.
He told BBC Radio 4's Profile that Mr Hunt had "quite close links" with Sky.
A spokeswoman for Mr Hunt said the claim was "odd" given that Mr Murdoch had complained about the licence fee settlement at the Leveson Inquiry.
The culture secretary has come under fire for the extent and nature of contacts between his former special adviser and News Corp's during its bid to take full control of BSkyB.
Mr Hunt has agreed to hand over details of private correspondence with Adam Smith, who resigned earlier this week, to the Leveson Inquiry into press ethics.
'Not great fan'
He has said this information will "vindicate" his belief that he acted with complete objectivity and propriety in his role of adjudicating on the bid.
But Mr Lyons has raised questions about Mr Hunt's independence when it came to decisions involving rival media companies, such as the BBC.
In his role as culture secretary, Mr Hunt led the negotiations on a new licence fee deal in 2010 which resulted in a six-year freeze in the BBC's licence fee.
Asked about the negotiating process in an interview for the BBC's Profile programme, Sir Michael said it was "very clear" that Mr Hunt was not a "great fan" of the BBC.
"It wasn't uncommon for Conservative ministers to co-join their great respect for the BBC with a narrative that it was too big, too ambitious, got into too many things and needed to be brought down to size," he said.
"What the proper boundaries are for the BBC, there will be different views about that but there was definitely a period when they were coloured by, I believe, the interest of Sky."
Asked whether Mr Hunt was working as "an ambassador" for News Corporation - which owns 39% of BSkyB - Sir Michael said this was a "rather strong way of putting it".
But he added: "I have no doubt at all that he (Jeremy Hunt) had quite close links (with BSkyB) and he was influenced, as many were, by the rhetoric - particularly of James Murdoch - that seemed to suggest Sky was in some way threatened by the BBC."
Sky was a bigger company than the BBC in terms of revenues, he added, had "seen off most of its commercial competition" and was "the big beast in this space".
A spokeswoman for Mr Hunt said he had always been a strong supporter of the BBC.
"It seems a little odd to claim that he was influenced by James Murdoch in a week when Mr Murdoch has publicly complained about Mr Hunt's licence fee settlement at the Leveson Inquiry," she said.
"Mr Hunt negotiated a settlement for the BBC that gives it financial stability for six years for the first time in its history."