Leveson inquiry rejects Jeremy Hunt's bid to appear early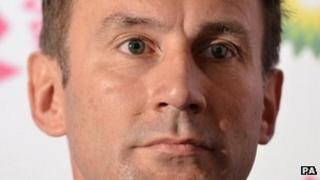 Jeremy Hunt will not be allowed to give evidence at the Leveson Inquiry early "in the interests of fairness to all", an inquiry spokesman has said.
The culture secretary wanted his appearance - expected to be in mid-May - moved so he could defend his role in News Corp's attempt to take over BSkyB, saying he acted with "total integrity".
Labour and some Lib Dems want a probe into whether he broke ministers' rules.
But the Tories say this should only be considered after Mr Hunt has testified.
'Best context'
BBC political correspondent Robin Brant said it was now clear that only David Cameron would make any decision on whether Mr Hunt broke the rules, because Lord Justice Leveson had emphasised that he would not act as an arbiter.
The culture secretary has been under pressure since documents released to the inquiry revealed close contact between his special adviser and News Corporation during its planned takeover of satellite broadcaster BSkyB.
Mr Hunt was meant to be acting in what he himself described as a "quasi-judicial" role in deciding whether the proposed merger should be referred to the Competition Commission for final approval.
Mr Hunt's special adviser Adam Smith has resigned over what he admitted was an inappropriately close relationship with News Corporation.
But Mr Hunt has said he did not know about the extent of the contact between the media giant and Mr Smith.
He would make his emails available to the Leveson Inquiry, he said, and he was "confident they will vindicate the position that I handled the BSkyB merger process with total integrity".
On Friday, Deputy Prime Minister Nick Clegg backed the idea of using the Leveson inquiry to investigate Mr Hunt's conduct, saying the inquiry was "the best context... to find out what happened or what didn't happen."
But a spokesman for the inquiry said: "Lord Justice Leveson is of the view that, in the interests of fairness to all, the inquiry should continue with the existing scheduling of his appearance."
A date for Mr Hunt's appearance before Lord Justice Leveson's inquiry into the culture, practices and ethics of the Press has not been set, but politicians will not be called until mid-May.
Labour has now repeated its demand for the prime minister to call in his independent adviser on the ministerial code of conduct, Sir Alex Allan.
Under the code, Mr Hunt is responsible for the actions of his special advisers.
Deputy leader Harriet Harman said: "It was always the case that it was the responsibility of the prime minister and his alone to ensure that his ministers adhered to the ministerial code.
"He should never have sought to pass that responsibility off to Lord Justice Leveson.
"David Cameron should now face up to his responsibilities as prime minister and refer this matter immediately to the independent adviser on ministers' interests, as he should have done at the outset.
"There is no need for Jeremy Hunt to wait to give his evidence to the Leveson Inquiry and he cannot hide behind it. He should come to the House of Commons as soon as possible."
But the deputy chairman of the Conservative Party, Michael Fallon, has insisted that a separate investigation should only be launched if the government decides it is merited after Mr Hunt gives his evidence to Lord Leveson.
He said: "The evidence can be tested there. If later on, obviously, it looks as if there's something that needs to be investigated under the ministerial code that can be done."
Liberal Democrat deputy leader Simon Hughes and leading Tory backbencher Bernard Jenkin have also called for Mr Hunt's case to be the subject of a separate inquiry.
But Conservative MP Mark Field says Sir Alex would not be regarded as independent if he investigated the matter, and suggested the role should be scrapped altogether.