David Cameron to wait for Jeremy Hunt evidence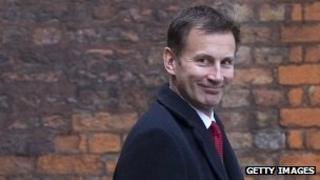 Downing Street says it will not "risk pre-empting" the Leveson Inquiry by investigating Jeremy Hunt's role in News Corp's BSkyB take-over attempt.
The inquiry has rejected the culture secretary's request to bring forward his appearance - expected in mid-May.
Mr Hunt says his evidence will show he acted with "total integrity" but Labour and some Lib Dems want a new probe.
No 10 said the PM "would of course act" if Mr Hunt's evidence suggested he had breached the ministerial code.
The culture secretary has been under pressure since documents released to the inquiry revealed close contact between his special adviser and News Corporation during its planned takeover of satellite broadcaster BSkyB.
Mr Hunt was meant to be acting in what he himself described as a "quasi-judicial" role in deciding whether the proposed merger should be referred to the Competition Commission for final approval.
His special adviser Adam Smith has resigned over what he admitted was an inappropriately close relationship with News Corporation.
The minister has said he did not know about the extent of the contact between the media giant and Mr Smith.
But under the ministerial code of conduct, Mr Hunt is responsible for the actions of his special advisers.
The Leveson Inquiry has refused a request from the culture secretary to have his appearance - expected to be in mid-May - moved so he could defend himself.
Lord Justice Leveson had emphasised that he would not act as an arbiter.
But a Downing Street spokesman said: "We have always been clear that the prime minister and not the Leveson Inquiry is the arbiter of the ministerial code.
"Jeremy Hunt will be appearing before the inquiry under oath and has made clear he will be providing all necessary evidence for consideration.
"It does not make sense to cut across a judicial inquiry with a parallel process that would risk pre-empting, duplicating or contradicting it.
"Once Jeremy Hunt's evidence is made public and he is questioned, if there is anything that suggests there has been a breach of the code the prime minister would of course act."
Labour leader Ed Miliband said the prime minister should have fired Mr Hunt and at the very least should refer the matter urgently to the independent adviser on ministerial conduct, Sir Alex Allan.
He said: "We've had Conservatives calling for that, we've had Liberal Democrats calling for that, we've got Labour calling for it - this is now an all-party issue.
"Frankly the longer the prime minister goes on resisting what seems to be the obvious thing to do, the more people will conclude he has something to hide, and he doesn't want the truth to be got at."
His view echoed a similar call by Liberal Democrat deputy leader Simon Hughes and leading Tory backbencher Bernard Jenkin.