Vote 2012: Greens' 'quiet confidence' on polls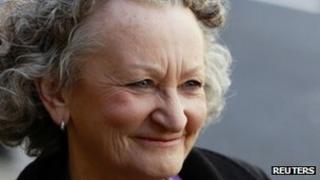 The Green Party say they are "quietly confident" about making gains at local council elections in England and Wales.
The party are fielding more than 900 candidates and hoping to pick up seats across the south-east and the Midlands.
They are defending six seats in Norwich - a key battleground for the party.
The Greens have campaigned on pledges to put more police on the beat, increase affordable housing, extend cycle lanes and 20mph zones and keep planning decisions at a local level.
In total, the party - - is contesting 943 seats in 119 councils on 3 May, a 13% increase on the last time the seats were fought.
It is defending 22 seats across England and Wales, in cities such as Norwich, Oxford, Bradford, Sheffield and Cambridge.
The Greens are looking to retain their position as the second largest party on Norwich Council as the main opposition to Labour.
The party say they are hopeful of boosting their representation in Solihull, Reading and Kirklees and picking up seats for the first time in Dudley. The Greens are also aiming to win their first ever seat on Cardiff Council and are fielding 37 candidates across the city.
London focus
In London, the Greens are seeking to retain their two seats on the London Assembly allocated on the basis of the parties' overall share of the vote across the capital.
In 2008, they came fourth in the "top-up" poll, with 8% of the vote. They did not win any of the 14 constituency-based ballots four years ago but are contesting all of them again.
A recent ComRes opinion poll suggested Jenny Jones, the Greens' candidate for London mayor, was slightly ahead of Lib Dem candidate Brian Paddick in third place in the contest.
But other polls have indicated that she is likely to be fighting it out for fourth place against UKIP's Lawrence Webb, independent Siobhan Benita and BNP candidate Carlos Cortiglia.
The party are also fielding candidates in the first ever mayoral elections in Liverpool and Salford.
The Scottish Green Party, which is a separate organisation, is hoping to boost its current tally of 10 councillors - in Glasgow, Edinburgh and Aberdeenshire - in the elections to 32 unitary authorities.