Local elections: What's at stake for party leaders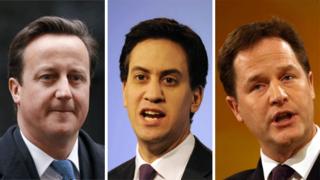 Votes are being counted in local elections across England, Scotland and Wales. What is at stake for the party leaders?
David Cameron
The Conservative leader managed to defy gravity for a long time after becoming prime minister in 2010, maintaining popularity in spite of austerity and spending cuts. But a "double-dip" recession, fallout from a budget dubbed an "omnishambles" by critics and the ongoing saga of his relations with Rupert Murdoch have all contributed to a recent slump in Conservative fortunes in national opinion polls.
The last time these councils seats were fought in England, in 2008, the Conservative Party had a very good night, with a 44% national share of the vote, compared with 24% for Labour.
The party, currently on about 32% in the polls, will be braced for a worse performance this time. But while they may be expecting to lose seats in the North of England and the Midlands, strategists will be studying results in Southern, Tory-dominated, shire counties more closely to see how well the party's core vote is holding up.
They are talking up the elections as a test of Ed Miliband's leadership of the Labour Party and will no doubt claim he should be doing better.
But the fear for Mr Cameron is that his mid-term wobble will harden into a more permanent reversal, killing off his hopes of winning an outright majority of his own at the next general election.
Ed Miliband
The Labour leader may spend Friday morning trying not to get too carried away by headlines about Labour gains.
The party is currently riding high in national opinion polls, with one recent survey putting it at 41% to the Conservatives 32%.
But the last time most of these seats were contested, Labour was at an historic low in popularity, with Gordon Brown under pressure over the 10p tax debacle. It lost control of 51 local authorities, leaving it with 5,300 councillors, its lowest number since 1973.
Labour will be hoping to retake councils in the North of England and the Midlands - but it is in Scotland and Wales where Mr Miliband's party really needs to make progress if he is to stand a chance of winning the next general election.
The party took a major hammering at the 2011 Holyrood elections and the last time these Scottish council seats were contested, in 2007, the party was left in control of just two Scottish councils. It was a similarly gloomy picture for Labour in Wales, where it lost control of six councils in 2008.
Nick Clegg
This time last year, Nick Clegg was a national hate figure for many voters, over his broken tuition fee pledge, and his party appeared to be taking most of the blame for coalition spending cuts.
The Lib Dems lost control of nine of their 19 councils and 778 councillors, wiping out years of careful work by local party activists at a stroke.
The party's national poll ratings have not improved much since then, but the deputy prime minister claims voters are at least starting to listen to his party again.
It is impossible for the Lib Dems to lose as many seats as they did in 2011, as they are not defending a sufficiently large number of them. A relatively modest loss of about 50 seats could even be spun as a win.
Mr Clegg is unlikely to face calls for him to quit on Friday morning, as he did last year, but the results may remind the party how much of a mountain they have to climb at the next general election.
Alex Salmond
For the SNP leader, these elections will be a test of his party's apparent dominance of Scottish politics, as it gears up to start campaigning for full independence.
Can Mr Salmond build on the SNP's landslide election victory in last year's Scottish Parliament elections, or will a resurgent Labour Party claw back some lost ground?
Questions about the SNP leader's ties to media mogul Rupert Murdoch - currently dominating the headlines in Scotland - or his recent spat with US tycoon Donald Trump may have an impact. But voter apathy might be a bigger factor, as this is the first time local elections have been held on their own in Scotland, without being tied to a Holyrood poll.
The SNP are neck-and-neck with Labour in a string of councils - but all eyes are likely to be on Glasgow, where Labour's dominance is under threat for the first time in decades. The SNP needs to gain 19 seats to Labour's one to take control of Glasgow, but it gained five Scottish Parliament constituencies from Labour in the city last year.
Leanne Wood
Leanne Wood was elected Plaid Cymru leader in March, on a promise to campaign for "real independence" for Wales.
Plaid is fighting back from disappointing results at last year's Assembly elections and the party says it is too soon to regard Thursday's polls as a referendum on Ms Wood's leadership.
"I've just come into post so I think it would be a big expectation to think that my leadership can drastically change the fortunes of Plaid Cymru," she has said.
"I'm hoping that we can do well. Obviously we are going all out to win as many council seats as we can."
The last time these seats were fought, Plaid put in a respectable performance, returning 205 councillors across Wales, a gain of 31 on 2004. Unfortunately, they lost control of Gwynedd, the only council in Wales they controlled.
The Green Party
The Green Party, whose leader Caroline Lucas became its first MP in 2010, in Brighton Pavilion, has said it is "quietly confident" about making gains at local council elections in England and Wales. The party are fielding more than 900 candidates and hoping to pick up seats across the south-east and the Midlands. They are defending six seats in Norwich - a key battleground for the party.
UK Independence Party
UKIP leader Nigel Farage has admitted the party has a lot of work to do translate its national opinion poll rating into council seats. It is fielding about 800 candidates but has traditionally underperformed in local elections. An 8% to 10% share of the national vote would be seen as a good result, giving weight to UKIP's claim to be challenging the Lib Dems for third party status nationally. Anything less might be seen as a disappointment by some activists.
British National Party
Nick Griffin's cash-strapped party has focused its scant resources on the race for London's city hall. The party, which has been rocked by in-fighting and defections, is thought to be fielding about 130 candidates nationally, well down on previous years.
English Democrats
The party, which campaigns for an English Parliament, will be hoping to pick up a few more seats to add to the two councillors it already has - but its main focus will be on Doncaster, in South Yorkshire, where voters are deciding whether to get rid of their elected mayor, a post currently held by English Democrat Peter Davies.
Respect
The left wing, anti-war party will be hoping to prove that George Galloway's stunning victory in the Bradford West by-election was not just a one-off. Leader Salma Yaqoob is thought to have hopes of joining Mr Galloway in the Commons at the next Birmingham by-election. The party is concentrating its efforts on Bradford, where it is fielding 12 candidates.