Labour's Ed Miliband pledges 'to help the many'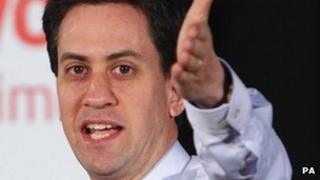 Labour leader Ed Miliband has promised "real change to help people in tough times", as he ends campaigning for Thursday's local elections.
He accused the coalition of giving priority to the "rich and powerful" and pledged to represent "the many".
Labour lost more than 300 councillors in 2008, when most of the seats up for grabs were last contested.
The Conservatives say Mr Miliband will fail a "test" of his leadership if the party does not make strong gains.
Some 181 councils in England, Scotland and Wales are holding contests for all or some of their seats.
In 2008, Labour lost 334 councillors and control of nine local authorities. It is attempting to reverse many of the defeats,
A Labour source said the party hoped to gain 300 extra seats in England and 100 in Wales.
They added that many Conservative voters in "key battle grounds" such as Birmingham and Derby were expected to come across, and that more support was expected in places like Harlow, "which we need to win at the next general election".
'Shrugs its shoulders'
Visiting Taunton's College in Southampton, Mr Miliband said: "People have a chance to vote in elections tomorrow. But some will ask whether elections ever make a difference.
"They remember how David Cameron once promised change but things have not got better.
"Instead we have a Budget for millionaires while millions are forced to pay more. We have families being squeezed while bankers still get their bonuses. And we have more than one million young unemployed while the government just shrugs its shoulders."
The Conservatives have declared the local elections a "test" of Mr Miliband's leadership, as they play down their own hopes of holding many of the seats they gained in 2008.
Meanwhile, Labour has been enjoying a lead in recent opinion polls, but there has also been criticism of Mr Miliband's style.
However, he insists he is the right person to get his party into a position to regain power both at local and national levels.
Mr Miliband said: "We know where this government's priorities lie: for the rich and powerful. We saw it in the Budget. We see it in their dealings with Rupert Murdoch.
"But these elections matter because Labour is campaigning for a very different set of priorities.
"Throughout the country, Labour is showing that we can make different choices, decisions which help people through these tough times. Different choices to create jobs, cut electricity bills, halt fare increases, tax bankers and halt the raid on pensioners' incomes.
"Labour stands for the people who don't get special access, or favours. We stand for the young people looking for work, the people whose living standards are squeezed, the pensioners seeing their taxes going up.
"That is the choice at these elections: a Labour party standing for the many, or a Tory party that protects the rich and powerful... I urge people to vote Labour for real change to help people in tough times."
Voters go to the polls from 0700 BST on Thursday. Results are expected to start coming in on Friday morning, after polls close at 2200 BST on Thursday.