MPs' pay: Public asked for views in Ipsa consultation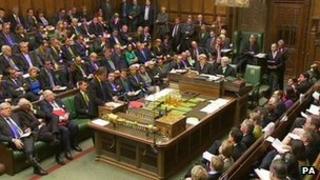 The body in charge of setting MPs' salaries and pensions has launched a public consultation on whether MPs are giving taxpayers value for money.
The Independent Parliamentary Standards Authority (Ipsa) chair, Sir Ian Kennedy, said he would not be guided by "political insiders" in Westminster.
This will be the first time pay and pensions are decided independently of Parliament or government.
"This is a huge change from the past," Sir Ian said.
On the Ipsa website, he asks: "How much should MPs be paid?
"I'm sure you have a view. We want to hear it."
Ipsa had dealt with the "mess created by the expenses scandal", Sir Ian said, with MPs' claims now documented online and rules adhered to.
Deciding on MPs' pay and pensions was Ipsa's "next big challenge".
Democratic heritage
The body is hoping to reach a consensus on the experience and skills needed to be an MP, and what MPs' responsibilities are at work.
This could help compare MPs' pay with that of similar roles.
But it would not be easy, Sir Ian warned, since MPs argued that they all did their jobs differently and being an MP was a "unique" profession.
Ipsa has decided "to get as many views as possible" before reaching any conclusions.
"Of course, the views must be informed rather than a reaction to recent events," Sir Ian said.
"We are talking about something very important here: part of the fabric which makes up our democratic heritage. How we remunerate MPs is a statement about the place they have in our society.
"So, we have to move carefully and thoughtfully."