Passion and parody: Twitter and the London mayoral elections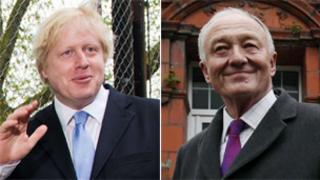 As voters went to the polls, Twitter was awash with messages about the London mayoral elections.
Some commentators were content to poke fun at the proceedings.
Comedian Eddie Izzard weighed in, telling his 2.4 million followers: "People like Boris like they like balloons. Don't let a balloon run London. Vote for Ken."
#ReplaceMovieTitleWithMayor trended for a time in London, bearing fruit with puns including "Something about Mayory" and - in a possible allusion to William Hague's description of Ken Livingstone - "Nightmayor on Elm Street".
Strict impartiality rules on broadcasting during elections apply to the BBC, whether in conventional media or online.
Hijacked
But no such rules apply to politicians, who did their utmost to influence wavering voters.
Mr Livingstone's team started tweeting at 06:15, 45 minutes before polling stations opened, enthusing supporters with the rallying hashtag #comeonken.
@ken4london subsequently despatched two to three tweets per hour throughout election day, reminding internet users of Mr Livingstone's pledge to cut fares on public transport in the capital.
"Don't let the Tories get away with it," one tweet pleaded to Ken's 24,000 followers.
The team also boasted of celebrity endorsements, Mr Izzard and another comedian, Jo Brand.
Six weeks ago, incumbent Mayor Boris Johnson's Twitter strategy got off to a faltering start when rivals complained that he had "hijacked" the official mayor account to give his campaign a boost.
He was forced to forgo the @MayorofLondon account and its 280,000 followers for party political purposes.
With exemplary aloofness from the fray, the mayor exhorted Twitter on polling day from his official account: "Use your vote - whichever way you want to cast it."
#NotKenAgain
But a separate @BackBoris2012 account had picked up more than 5,000 followers by the time of the election, and distributed four or five times as many tweets per hour as Team Livingstone while polls were open.
"Before you head home tonight, make sure you go and vote! Low turnout could deliver victory to Ken," @BackBoris2012 feared.
In another contrast with the Livingstone strategy, Mr Johnson's team spent much of the day retweeting supportive messages from admirers.
One such tweet was from Conservative MP Zac Goldsmith, sharing a link to a website offering "50 reasons to back Boris".
"Please think of the good of London and #backboris," another tweet read.
The evocative hashtag #NotKenAgain was widely deployed.
'A weird day'
Liberal Democrat candidate Brian Paddick's team spent part of the day conversing with individual voters on Twitter.
"Please put me as first preference when you vote," he asked one.
Struggling to shed light on the electoral system used to choose London's mayor, he told another: "Your second preference would count as first preference for the two candidates you think might get the most votes in final round."
Meanwhile Green candidate Jenny Jones began the day with a stern message for anyone tempted to abstain: "In other countries people are dying for the right to vote in free & fair elections & you can't be bothered?"
Yet later this passion appeared to have subsided.
"This is a weird day - you assume ppl [people] have decided so you just have to get them out to vote," she confided to her 6,000 followers, also revealing that she planned to have "week-old home-made pizza" for lunch.
Long after the dust has settled on the contest, we can only speculate as to which of the candidate's Twitter strategies had the biggest impact on decisive swing voters.