Analysis: Results will ratchet up pressure on Cameron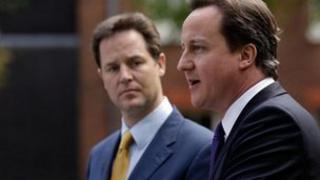 Some senior Tories have started to warn David Cameron that he needs to change tack following tonight's local election results.
A bad night for the Conservatives will bring the prime minister under renewed pressure from some MPs within his own party.
Gerald Howarth MP for Aldershot and a defence minister said Thursday night's results will have to be considered by David Cameron along with deep unhappiness by many Tories over some the government's policies.
These elections are the biggest test of voter opinion since the general election in 2010 and will inevitably be seen as a mid-term verdict on the coalition government.
The Conservatives know they will do badly in these polls. They took a lot of seats from Labour in 2004 and 2008 and they accept that holding on to them will be difficult.
On Thursday night some have been suggesting Labour might win between 800-1,000 seats. If that doesn't happen, of course, the Tories will claim things didn't turn out as badly as expected and that Labour should have done much better. They will say this as a referendum on Ed Miliband's leadership.
Labour have been setting their target much lower. They talk of winning 350 seats in England and 100 seats in Wales. It'll allow them to cheer all-the-more loudly if the figure is higher.
Labour are confident of progress in key areas in the Midlands and south of England. One key test for them was to see if they could gain Birmingham City Council where they only needed to take five seats in order to win. They took 20.
It's likely to be an uncomfortable night for the Liberal Democrats, even though Nick Clegg claimed this week that, "a lot of people are flocking back to vote for us".
The Lib Dems have always relied on a strong local base. Their opponents say they've been caught out and accuse them of supporting policies locally which they're aren't implementing in government. The indications are that they may lose out heavily again to Labour.
In London, the results of the contest between Ken Livingstone and Boris Johnson won't come through until late in the day on Friday. The Conservatives are pinning their hopes on their candidate being re-elected as Mayor of London.
However, a victory for Boris in London will not be enough for Conservative MPs wondering whether or not they can hold onto their seats in the next general election.
On Thursday night, one former minister has added to the warnings. Commenting on the strength of the UKIP vote in some areas, Gary Streeter MP said hardcore Conservative voters "simply don't like the kind of small "l" liberal decisions this government is beginning to take". Such voters, he said, don't think the leadership is Conservative enough.
The prime minister has been telling the cabinet recently that the Coalition has been working well together and that even though they've had a rough couple of months, they're achieving a lot for the long-term. But bad results tonight will lead to more calls from inside his party for the tail to stop wagging the dog.
Scotland record low
Next week, David Cameron and Nick Clegg will set out some of the programme for the next stage of the Coalition. But some Tories might look at tonight's results and say: "Don't give us Rose Garden 2, give us something different."
Meanwhile, in Scotland, the SNP hope to build on their Holyrood election victory last year and have targeted Glasgow as their major prize. Early indications are that there may have been a record low turnout amongst Scotland's four million voters.
But we'll have to wait awhile for the full picture. The people doing the vote counting have been allowed a good night's sleep and won't get started until Friday morning.
And across England, 10 cities have been holding referendums to see if they should have elected mayors. It was noticeable tonight how senior figures in all three main parties were not expressing much regret at the prospect of people voting "no".
· All the latest election results are available at bbc.co.uk/vote2012