Cameron congratulates French president-elect Hollande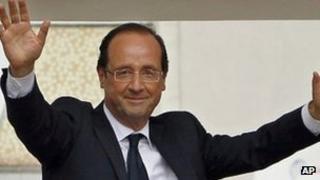 Prime Minister David Cameron has called Francois Hollande to congratulate him on his victory in France's presidential election, Downing Street has said.
Mr Hollande won a clear victory, beating incumbent Nicolas Sarkozy.
Mr Cameron said he looked forward to "working very closely together... on the very close relationship" between France and the UK.
Labour leader Ed Miliband said Mr Hollande's leadership was needed "as Europe seeks to escape from austerity".
Mr Cameron phoned Mr Hollande on Sunday night, shortly after the election result.
A spokesman said: "They both look forward to working very closely together in the future and building on the very close relationship that already exists between the UK and France."
The call was described as "warm and cordial".
Mr Miliband said he too congratulated Mr Hollande.
"I know from our conversations in London earlier this year and from his victory speech tonight of his determination to help create a Europe of growth and jobs, in a way that is responsible and sustainable.
"This new leadership is sorely needed as Europe seeks to escape from austerity. And it matters to Britain."
"I look forward to working together with him in the months and years ahead."
Political changes
Former EU trade commissioner, Peter Mandelson, told the Today programme that Europe's "political landscape and the balance of its thinking" was going to change following Mr Hollande's victory.
He added: "But I don't, however, believe you're going to see a great swing from full-blown austerity to full-blown... stimulus. Partly because this is they recognise there's simply not the policy space or latitude to do this.
"But also because the consequence collapse of confidence by investors in the debt markets would cripple Europe's recovery prospects even further."
He said he expected Mr Hollande and German Chancellor Angela Merkel to push for greater EU integration.
"I think that you will see both of them saying that everything that needs to be done to save the whole post war settlement in Europe, as well as the euro, will require more European integration, not less."
Mr Mandelson also said there would be serious consequences if Greece decided to leave the Eurozone.
"Should Greece leave the Eurozone, I think it would call into question the whole future framework, and I think it would put a question mark over the risk of contagion - market contagion and panic - spreading from Greece to other periphery countries in the Eurozone.
"But I'm not at all convinced just now that Greece is going to do that - because Greece has no access to market funding, to finance its national needs."