David Cameron vows to 'focus' after election defeats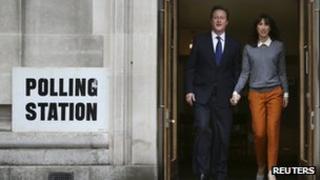 David Cameron has promised to "focus on what matters" as he seeks to fight back from poor local election results.
Writing in the Daily Telegraph , he appears to distance himself from the coalition, saying things would be "more straightforward" working alone.
The PM set out different goals to his deputy, Lib Dem leader Nick Clegg, who urged House of Lords reform - seen as a distraction by some Tories.
Labour says Mr Cameron is showing increasing signs of "bunker mentality".
On Wednesday, Mr Cameron and Mr Clegg will jointly outline the coalition's agenda for the next year in the Queen's Speech.
It follows local elections in which both the Conservatives and Liberal Democrats suffered heavy losses: the Tories losing 405 council seats and their coalition partners 336.
'Out-of-touch'
In his Daily Telegraph article Mr Cameron focuses on cutting regulation and tax to help the private sector, reforming the welfare and financial systems and helping first time buyers get on the housing ladder.
But writing in the Guardian, Mr Clegg says the coalition must "get on with" introducing House of Lords reform, and calls for lower tax and energy bills, more free childcare and increased training for young people.
Since the local elections the prime minister has come under pressure from some of his own MPs who want him to focus on distinctively Conservative policies.
Brian Binley, Tory MP for Northampton, was quoted on the Conservative Home website as "urging Mr Cameron to rethink policies that are too Lib Dem-friendly".
And Julian Brazier, Conservative MP for Canterbury in Kent, urged the PM to eschew gay marriage and Lords reform, both of which he described as "pretty ridiculous fringe policies".
In his Telegraph article, Mr Cameron appears to distance himself somewhat from his coalition partners when he writes: "Of course, some things would be more straightforward if I was running a Conservative-only administration, rather than a coalition.
"And let me be clear, that is my aim after the next election."
Mr Cameron writes he will not move right or left and is sceptical of those who think answers can be found in "loud ideologies".
He adds: "The message people are sending is this: focus on what matters, deliver what you promise - and prove yourself in the process. I get it."
He said he knew the "familiar excuses" of a low turnout, and mid term blues were not enough.
"Even the difficulties of our economic situation and the tough but necessary decisions the government has had to take cannot fully explain the results," he said.
Mr Clegg said while the first two years of the coalition were about the economy, "the second half has to be about reform", including in the House of Lords."For more than a century, we have been debating the commonsense idea that the people who obey the laws of the land should elect the people who make them," he said.
"Instead of getting ourselves tied up in knots in Westminster about this, we just need to get on with it."
The Conservatives and Liberal Democrats agreed in their coalition deal to set up a committee to examine proposals for a "wholly or mainly elected upper chamber".
However Mr Cameron did not mention Lords reform in his Telegraph piece.
Chancellor George Osborne, speaking on Sunday's The Andrew Marr Show on BBC One, said the Conservatives were committed to "looking" at the issue but it was not an "overriding" priority.
Alternative Queen's speech
While Lord's reform is expected to be included in the Queen's Speech, not all Bills are published in detail and some are put out to consultation.
Meanwhile, Labour's shadow cabinet office minister Michael Dugher said the prime minister was showing "increasing signs of having a bunker mentality".
"After two years in Downing Street, with one million young people out of work and an economy in recession, he says the lesson is that he needs to put in some 'hard work'," he said.
"Only this out-of-touch prime minister would have taken 730 days to figure that out."
Meanwhile the unofficial but influential website Conservative Home is publishing an alternative Queen's Speech - including ideas for bills ranging from more grammar schools to a referendum on Britain's EU membership. Around 20 MPs have contributed ideas.
Conservative MP John Redwood told the Today programme, he was not contributing to the alternative speech, but had been asked for ideas for what he would like to see.
He said he wanted to see the government take "strong action to give customers a better deal when buying water, when buying energy, when dealing with the banks" over the "next year or two".