Expat threatens to take campaign for votes abroad to UN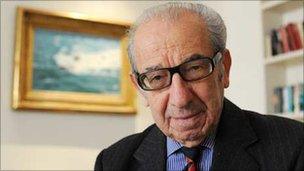 A 90-year-old's campaign to overturn a ban on long-term British expats voting in UK elections has moved a step closer - and could go all the way to the the United Nations.
Harry Shindler took his case to the European Court of Human Rights in 2009.
And a decision is expected in the next few months.
But if he is unsuccessful, the World War II veteran is prepared to take his dossier of evidence to the UN for a ruling on implications on human rights.
"This is not a small matter - it affects one million Brits," Mr Shindler said. "Hundreds of thousands of young men died in a war so we could vote. I was there."
He added: "They didn't know then there would one day be a government that would say 'no, you can't vote'."
Under UK law, expatriates who have lived abroad for more than 15 years cannot vote in British elections.
Mr Shindler has not been able to vote in the UK since 1997. He moved to Italy to be near his grandson in 1982 but cannot vote there either.
"We're disenfranchised," he said. "I want to vote here - I don't want to vote in Italy."
He says the ban would have been valid 100 years ago but cannot be justified when air travel and electronic communication have brought countries so close together.
"I can be in London in two hours - far sooner than an MP who comes from Carlisle to Westminster by train."
Article 21 of the UN's Universal Declaration of Human Rights says that "everyone has the right to take part in the government of his country".
And Mr Shindler plans to take his fight all the way to the UN Human Rights Council, which can investigate "consistent patterns of gross and reliably attested violations of all human rights and all fundamental freedoms occurring in any part of the world and under any circumstances".
The European court has written to Mr Shindler to say he will know "within the year" whether his battle with the UK government has been successful.
But he is expecting a result sooner rather than later. If he wins, he will move on to persuading MPs and lords to change the law.
"If we win - as I'm told we have every chance of doing - we will then campaign for MPs and lords to change the UK law."
Mr Shindler, who has kept his distinctive south London accent, is keen to counter the stereotype of rich British expats living the high life in the sun.
"These aren't people sitting on their yachts in the shade - they're hotel workers, bar staff, teachers and, of course, pensioners.
"They're not wealthy people. They're working Brits who use UK banks, pay UK taxes and have kids in UK schools."
Related Internet Links
The BBC is not responsible for the content of external sites.