Lord Browne: Civil service pay curbs hold back 'talent'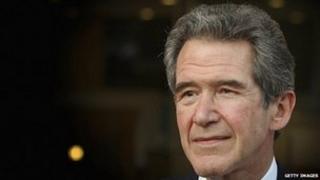 The coalition's crackdown on civil service pay is making it difficult to recruit "talented" staff, government adviser Lord Browne has said.
The former BP chief was drafted in to sharpen up the way Whitehall is run.
But his second annual report as the government's lead non-executive director says public sector pay "constraints" were not helping.
It comes as Cabinet Office minister Francis Maude said more underperforming staff should be sacked.
Mr Maude hired Lord Browne and 59 other non-executive directors from the City and industry to sit on the board of 16 government departments as part of an effort to make the machinery of government operate more like a public company.
Reports in the Daily Telegraph suggest ministers are frustrated with "lazy" civil servants and will shortly announce plans to identify and sack poorly performing staff.
'Talent management'
Mr Maude told the newspaper: "It is a myth that you can never sack a civil servant. It is not easy to sack anyone, nor should it be. But it is no more difficult in the civil service than it is anywhere else, on performance grounds.
"It is just that the recent history has been that performance management hasn't been very good, neither in terms of recognising the best performers nor in addressing the issues of the worst performers."
He added: "What we will need to end up with is the way performance management is done in most organisations, which is you force managers to do rankings, to rate people in order of performance."
The government has already introduced performance-related bonuses for many civil servants, despite strong opposition from the PCS union.
Explaining its opposition to the scheme on its website, in a briefing for union reps , it says: "It is wrong in principle to claim to reward high performance when the money comes out of the pockets of those whose performance is consistently good.
"Improved performance is only really possible when everyone contributes. A carrot on a stick may be OK for donkeys but not civil servants."
'Improve incentives'
Lord Browne's report says the calibre of civil servants was "generally very high" but there was a lack of staff with commercial skill or expertise in handling major projects.
It says better "talent management" and rewards for good performance are needed.
"The constraints on public sector pay and recruitment pose particular challenges for talent management.
"Even so, there is scope to improve incentives and reward, ensuring these are aligned with the strategic priorities. Individual departments could potentially be given more flexibility on pay, within a controlled overall envelope."
The report cites the Department for International Development as an example of good practice, saying it aimed to "have good performance management, both of high performers, and of poor performers who should be managed, and if necessary exited, robustly but with dignity".
Last year another government adviser, economist Will Hutton, said in his Fair Pay Report that public sector workers should face salary cuts if they fail to meet performance targets.
He said the "remarkable" executive pay growth, in both the public and private sector, had come with "growing scepticism" about whether such rewards were deserved.
In 2010, in an attempt to impose restraint, the government named 172 civil servants earning more than the prime minister's £142,500 salary.
At the time, Business Secretary Vince Cable told BBC News: "There has been massive pay inflation in top salaries, people in the public sector trying to emulate what's been happening in the private sector and it frankly is not affordable."