Former MP to lead new political party opposed to NHS changes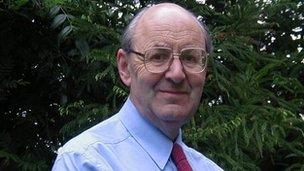 Former independent MP Dr Richard Taylor is set to become joint leader of a new political party being set up to campaign against changes to the NHS.
The National Health Action Party is hoping to put up at least 50 candidates at the next election and is appealing to medical professionals to join it.
Dr Taylor said the coalition's plans to change the way care is commissioned were damaging and must be "challenged".
The former hospital doctor was MP for Kidderminster between 2001 and 2010.
He was elected to Parliament on a platform to protect emergency health services at Kidderminster Hospital, becoming one of the few independents in modern times to have won a seat.
However, he was defeated in the 2010 general election. Since then, he has fronted a number of local campaigns and is president of Independent Community and Health Concern - which had three candidates elected to Kidderminster Council earlier this month.
Dr Taylor has now thrown his weight behind a new political party whose aim is to oppose the re-organisation of the NHS approved by MPs earlier this year.
Under the plans, new groups of GPs and other health professionals will take over responsibility for commissioning healthcare next year, while there will be greater scope for the private sector to provide services.
Critics say the plans will fragment the NHS and introduce a new layer of bureaucracy but ministers insist patients' interests will be better served by the new structure and the NHS will be more efficient.
The National Health Action Party is the brainchild of cancer specialist Dr Clive Peedell, who will share the leadership of the party with Dr Taylor.
Writing on the Independent Community and Health Concern's website, Dr Taylor said the idea that medical professionals should enter the political arena to "support such a cherished organisation" had considerable support across the NHS.
"Most right-thinking people will welcome this plan as the NHS reforms are so widely deplored," he wrote.
"On a personal note, the delight of being twice retired is that I have time to continue to support the ICHC as life president and, if wanted, to advise and support a new national political party to support the NHS."
Dr Peedell, co-chair of the NHS Consultants Association, has said the party will officially launch in the next few months, registering with the electoral authorities.
It will then seek to recruit candidates and raise finance to fight up to 50 seats at the next election.
He has said the party "will target carefully" which seats it contests at the election - scheduled to be held in 2015. He insists the party could have real "influence" in the event of a close election result and if it gets some representation in the Commons.