Ministers to 're-mode' in bid to ease Games congestion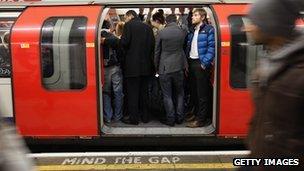 Transport Secretary Justine Greening has appeared in a government video explaining how she plans to "re-route, re-mode, re-time" as part of a drive to cut travel during the Olympics.
"Re-moding" is how she described walking to a cabinet meeting to push other ways of getting to work.
A series of ministers have said how their departments plan to change 50% of government travel during the Games.
London is bracing itself for millions of extra journeys in July and August.
Interviewed in the Department for Transport's promotional video , Ms Greening said: "Across the whole department we're trying to re-route, re-mode, re-time and just generally reduce our travel, so I'm re-moding at the moment."
A slightly out of breath Francis Maude said he had got "his bike out again" to travel to cabinet.
"We will need to do it for the Olympics," the Cabinet Office minister said.
"But actually I'm really keen that, over time, we in the civil service get better at people working a bit more from home sometimes because that can ease congestion."
In a bid to help the transport network cope with an estimated three million extra journeys a day, some Whitehall officials are being encouraged to work at home during the Olympics.
According to the Times newspaper (£) tens of thousands of civil servants will be allowed to avoid travelling to work from 21 July - six days before the opening ceremony - until 9 September when the Paralympics finish.
Mr Maude said working from home "can be better for people's lives".
"People can be much more productive if they are working a bit more of the time from home," he added.
Transport minister Mike Penning told the video's makers he had set off from home at 6.15am in preparation for the Olympics as part of Operation Step Change.
London 2012 organisers have created 30 miles of road lanes for use only by Olympic dignitaries, officials and athletes.
"Capacity is going to be an issue," Mr Penning said. "So we need to make sure that we lead, we're showing how we can do it, how our civil servants can do it, and then we're not asking the public to do something that we're not doing."
Norman Baker, a Lib Dem transport minister, said appearing in the video would save ministerial time and public money as well as cutting carbon emissions.
He extolls the benefits of recording speeches on video to save "maybe travelling hundreds of miles to make a ten-minute speech".
"This is the way... we should be going: maximising our time, minimising our impact on the environment.
"But I think it is very important that all of us get in the groove of looking at matters in a different way, realising the value of remote working, of working in different, flexible hours, and approaching life from a different way."