National police database to target unpaid fines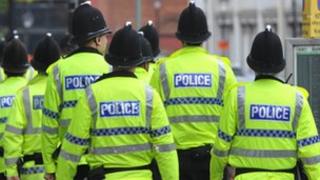 A new 24 hour national police database is to be rolled out to target criminals who do not pay their fines.
Justice Minister Jonathan Djanogly has told Radio 4's Face the Facts that too many criminals issued with tickets are not paying them.
"If there is a record of people not having paid their fines then, frankly, they shouldn't be given more tickets, they should be going into court."
The Magistrates Association said 50% of out of court fines go unpaid.
On the spot punishments are handed out by the police for offences like low level assault, criminal damage, speeding and shoplifting.
However, unlike in the courts where a person is means tested, out of court fines are fixed and do not take into account the person's capacity to pay.
"When it's dealt with in court there is a statutory obligation to consider capacity to pay and then to tailor the size of the penalty to the pocket of the defendant," said Rod Morgan, Emeritus Professor of Law at University of Bristol and a former chairman of the Youth Justice Board.
Morgan explained that over the past 30 years, in an attempt to ease the courts' workload, more and more fines have been levied out of court as opposed to in court".
"We've now moved to a system of on the spot fines for very large numbers offenders where there's just a standard fine and no acknowledgment of the capacity of the person to pay," he added.
Justice Minister Jonathan Djanogly admitted that the use of out of court fines has gone too far.
"We think that tickets are often issued, for instance for violent crimes, when they should not have been, which is why we have been tightening the guidelines," he added.
Face the Facts' presenter John Waite spoke to convicted criminals outside a magistrates court in Liverpool who illustrated the problem.
One 19-year-old man convicted of carrying offensive weapons told him: "I owe about £700. I've paid nothing. I've got no money spare. I face going to jail."
When asked if he minded that, he replied "No."
An 18-year old who has stacked up more than £1,000 worth of fines, including breaching an Anti-social Behaviour Order (Asbo), explained how he had finally ended up in court before a magistrate.
"Fines are no good. They are giving people fines my age who haven't got a job.
"I've got to go out and find money to pay fines, which is going to get me into more trouble, isn't it," he added.
Unlike in a court where magistrates can find out about other outstanding fines, the police currently have no real way of knowing if a suspect has a stack of unpaid fines to their name.
Justice Minister Djanogly said the new database will aid identification checks and help police officers decide on the offenders suitability for tickets.
Chief Constable Alex Marshall, from the Association of Chief Police Officers, responsible for out of court disposals, explained that information relating to fixed penalty notices is currently held on local databases.
He said while sharing information across forces is possible, the new database will improve the process.
"This will allow the courts to consider more punitive measures against individuals who try to flout sanctions for repeatedly causing low-level crime and disorder in our communities," he said.
You can hear more of John Waite's report on Radio 4's Face to the Facts on Wednesday 16 May 2012 at 1230 BST. Or listen again afterwards on BBC iPlayer .