William Hague promises to 'argue relentlessly' to boost UK business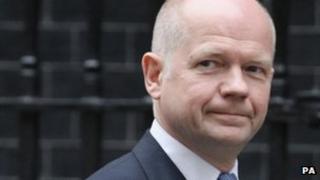 Foreign Secretary William Hague has promised to "argue relentlessly" for free trade around the world in an effort to boost the UK economy.
In a speech to the CBI business group he said embassies and consulates would promote relationships with companies in key markets.
He also said it is "crucially important" that investors overseas have confidence in the UK.
At the weekend, Mr Hague urged bosses to "work harder" to push for contracts.
The Bank of England has revised its economic growth forecast for this year downwards from 1.2% to 0.8% and official figures show the UK re-entered recession during the first quarter of this year.
The government insists its priority is to end the downturn by helping businesses to succeed in highly competitive global markets.
It used last week's Queen's Speech to unveil an Enterprise and Regulatory Reform Bill, aimed at creating "the right conditions for economic recovery" by reducing the amount of bureaucracy dealt with by firms.
'Creeping fingers'
In his speech, Mr Hague pledged that, by 2015, the Foreign Office will have deployed an extra 300 staff in the "fastest-growing cities and regions in more than 20 countries".
He discussed the challenges posed by "weaker than predicted" global economic growth, the ongoing difficulties in the eurozone and "the creeping fingers of protectionism in parts of the world".
With the size of the world economy expected to double over the next 15 years, Mr Hague said: "We have to rise to the challenge of earning our living in the world, as indeed many British businesses already are.
"In today's economic climate the challenge for all countries is to adapt and thrive or fail to change and fall behind."
He promised to increase diplomatic links with fast-growing markets, including Brazil, but tell business leaders: "No single event would provide a bigger boost to the British economy in the short term than the resolution of the eurozone crisis and a return to growth in Europe.
"And the crucial ingredients of achieving that growth are fewer barriers to business, more free trade, less intrusive regulation and the understanding that governments have never and will never create wealth solely through their own activities."
But the role of the Foreign Office is "vital", he argued, adding: "Our diplomats have to help create new openings for UK business overseas, and in the EU champion growth, the expansion of the Single Market and the free trade agreements that bring millions of pounds worth of business into our economy."
He also said: "We have the determination to use our voice in international institutions to argue relentlessly for free Trade and open markets and against protectionism or regulation that harms the British economy."
In the Sunday Telegraph , Mr Hague urged UK businesses to "work harder" to compete against overseas rivals for deals. But Labour responded that it was up to the government to do more to help companies flourish.