Clarke: Prime Minister has right to 'chillax'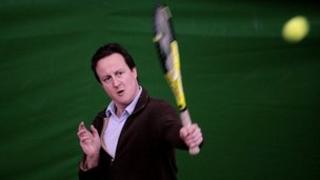 A senior cabinet colleague has defended David Cameron's work ethic after a book said his weekend relaxations included tennis, karaoke and drinking wine.
Justice Secretary Ken Clarke insisted leaders needed to remain "part of the human race" while dealing with the "grindstone" of life in government.
He told Sky News the prime minister had to be a "workaholic" to do his job and deserved some "light relief".
But Labour's Ed Balls said Mr Cameron was often "not on top of issues".
Extracts from a biography of the prime minister by journalists Francis Elliott and James Hanning suggest he "chillaxes" during weekends at his official country residence, Chequers, by singing karaoke, playing tennis against a machine dubbed "the Clegger", playing games on his iPad and partaking of several glasses of wine at Sunday lunch.
'Different metabolism'
Questioned on Sky News' Murnaghan programme, Mr Clarke said: "Well, you have to have a little light relief in politics and that's light relief. Everybody has to have some time on their own."
He added: "I don't want to stand here on behalf of the trade union of minister of the United Kingdom and the western world, but you have to be a workaholic to do it," he went on.
"Particularly if you are prime minister and you cover the whole scene, you really have to put the work in."
Mr Clarke, famed for his love of birdwatching, jazz, beer, cricket, football and cigars, added: "David has a quite different metabolism to me. He appears to get up at the crack of dawn and I hear him referring to people on [BBC Radio 4's] Farming Today [which starts at 05:45 BST]...
"I have not listened to Farming Today for many years, but you might find me with a brandy and a cigar at one o'clock in the morning working on my papers."
"It is not possible to survive in politics by skiving," he added. "But it's very useful to remain a member of the human race and you do have a family, you do have other things to just remind you what life is about."
Mr Clarke pointed out that Conservative Prime Minister Harold Macmillan had time to read long novels when in power from 1957 to 1963, but added: "Modern government is more demanding than that, and David Cameron is doing a more-than-full-time job."
For Labour, shadow chancellor Ed Balls said: "I don't want to be too pompous about this. It is a good thing at the weekend to have a bit of time."
But he added: "I often feel in the House of Commons he is not on top of the issues."
When interviewed about his workload on BBC Radio 4's Today programme last month, Mr Cameron said being "completely fried and exhausted" led to bad judgements.
He added: "It's got to be possible to be a decent husband, a good father and a good prime minister at the same time."