New pre-entry TB screening for visa applicants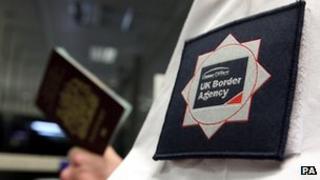 Those travelling to the UK could be screened for tuberculosis before being granted a visa, the Home Office says.
The new rules will apply to those who wish to spend over six months in the UK and come from a country deemed to have a high incidence of TB.
Immigration Minister Damian Green said TB was "at its highest level in the UK for 30 years" and action was needed.
Screening applicants before arrival is expected to save £40 million over ten years, ministers claim.
Mr Green told MPs: "Pre-entry screening, followed by treatment where necessary, will help to prevent the risk of TB in the UK and will also save lives.
"Removing screening facilities at airports will save the taxpayer £25 million over 10 years and further NHS savings will be made by preventing the importation and spread of TB in the UK."
The scheme, which has already been piloted in 15 countries, will be introduced in three phases over an 18 month period.
The 67 high incidence countries, as identified by the World Health Organisation, include China, India, Morocco, Nepal and South Africa.
All applicants from these countries wishing to spend more than six months in the UK will be screened for TB before being granted a visa.
Infectious TB sufferers and those diagnosed with active TB will be denied entry to the UK.
According to the Home Office, there has been a 5% increase in cases of TB in the UK in 2011, with an additional 9,000 cases compared with 2010.
Research, they say, shows that those born outside of the UK account for three quarters of all new cases of TB diagnosed in the UK.
The costs of screening and any subsequent treatment will be met by applicants, the department said.