Border Force chief doesn't 'anticipate' long Olympic queues at airports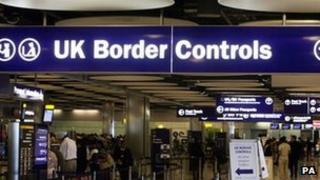 The head of the UK Border Force has said he does not "anticipate" people facing long queues to get into the country during the Olympics.
Brian Moore told MPs waits of several hours at passport control seen in recent months were unacceptable and he was "satisfied" that plans in place would prevent a repeat.
The situation was improving after extra staff had been deployed, he added.
David Cameron has urged officials to "get a grip" on problems at Heathrow.
Mr Moore, the former chief constable of Wiltshire Police, was appointed interim head of the Border Force earlier this year after the resignation of Brodie Clark in 2011 amid a row over the relaxation of passport checks at some airports.
He defended the handling of passport checks at leading airports when he appeared before the Home Affairs Select Committee, but MPs accused him of being "quite relaxed" about queue lengths.
'Gradual process'
The UK Border Force has come under fire from airlines and passengers for queues of up to three hours for many non-EU passengers at Heathrow.
Unions have claimed cuts in immigration staff are to blame for the delays, while the prime minister intervened last month, calling on the home secretary and immigration minister to get on top of the issue.
Asked what was an acceptable time to have to wait at ports of entry, Mr Moore said this figure would vary, but 25 minutes was not "unreasonable".
He added: "Any delay of three hours would be unacceptable. There is no question about that. That is not right unless there is some extraordinary reason for that to be routine - which it isn't."
Mr Moore said the recent increase in immigration staff at Heathrow was part of a "gradual process" to ensure resources were more effectively deployed and not a panic measure in response to criticism.
"It took me a little time just to get our resources assembled so that we could get the right number of people in the right place," he said, suggesting this kind of flexibility had not been a "strength" in the past.
Some 480 extra UK Border Force staff will be on duty at Heathrow for the Olympics while the future recruitment of 70 extra staff will be brought forward to prevent lengthy queues following the event.
Mr Moore said extra manpower was "increasingly beginning to bite" on queue lengths and he was hopeful that increased arrivals during the summer and over the Olympics could be handled.
"Staffing arrangements are improving all the time," he said. "I do not anticipate seeing large queues of two or three hours. However, there will always be circumstances beyond our control.
"There might always be conditions that may arise which simply defeat us. Our job will be to make sure that at time of peak demand we have as much resources there as necessary to manage what is there before us."
Mr Moore's comments echo those of immigration officials at Heathrow, who expressed confidence on Monday that they were ready to cope with a surge in demand during the Olympics.
'Mighty row'
But Labour MP Keith Vaz, the committee's chairman, suggested to Mr Moore he had been slow to act.
He said: "The fact that ministers have had to send in more staff to deal with this issue - don't you think that is something you ought to have done since you have operational control of this matter?
"Why did you have to wait for the immigration minister to set up a new control system?"
Labour colleague David Winnick said there would be a "mighty row" if the queue times seen in recent months were repeated. Conservative MP Michael Ellis said he was concerned new staff would get less training.
Asked about the state of morale in the UK Border Force, Mr Moore said many staff were "absolutely brilliant" but there were others who would "never be happy".
Immigration staff were among those to take part in public sector strike over pensions earlier this month.