Group of Conservative MPs urge state 'roll back'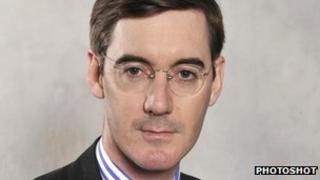 The state should be rolled back and more power given to individuals and businesses, a group of Conservative MPs has said.
The MPs, all elected in 2010, want a "principled conservatism" that supports the individual rather than the state.
In a pamphlet published on Wednesday they set out a programme of policies, including support for a fully elected House of Lords.
The Politeia report is entitled Freedom, Responsibility and the State.
MP for North East Somerset Jacob Rees-Mogg, a key member of the group, said the "common thread" running through it was the idea of a "principled conservatism".
This, he said, "backs the individual against the state" and places trust in people to make decisions for themselves.
Ideas laid out in the document include increased democracy at local level - via local referendums and directly-elected mayors - and a fully elected House of Lords.
Deregulation of employment law and tax breaks for businesses are also included, as is more involvement for companies in vocational education, and the phasing-out of police cautions to ensure more offenders are brought before a court.
Mr Rees-Mogg accepted not everyone would benefit from the ideas about deregulation proposed in the pamphlet but said: "If society is wrapped in cotton wool it will never prosper.
"Naturally, there needs to be some safety net for those who fail but unless some are allowed to fall none will be able to climb."
Greater freedom, he said, was a way of providing opportunity, unleashing talent and encouraging risk taking.
"However, it only works if there are also failures. The choice is, the collective and constant mediocrity - or, freedom and great peaks of human endeavour."
Others contributing to the pamphlet are Conservative MPs Zac Goldsmith, James Morris, Jason McCartney, John Stevenson, Craig Whittaker, Fiona Bruce, Simon Reevell and David Mowat.