Caravan tax: Rebels to petition Parliament against VAT plans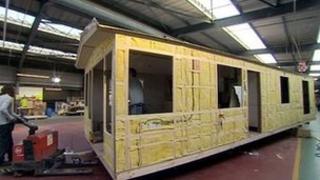 Coalition MPs who oppose extending VAT to all caravans are stepping up their campaign against the government's plans with a petition to Parliament.
Treasury officials estimate the new tax on static caravans will raise £45m.
But some Conservative and Lib Dem MPs believe it will hit sales and threaten thousands of jobs in the north east and the south west of England.
The BBC understands that Chancellor George Osborne has pledged to put the change to a House of Commons vote.
People had until last Friday to submit views on the change, which does not require a change in the law but will go though under what is known as a statutory instrument.
Opponents of the plan - announced in the recent Budget - mounted a significant rebellion when it was first debated and voted on last month. The government's majority fell to 21, its lowest since it came to power.
Treasury minister David Gauke has privately conceded that government projections that hundreds of firms could be at risk were inaccurate, and the likely figure is higher, the BBC has been told.
The government believes the tax change closes a loophole and is necessary to ensure a level playing field in the industry. Caravans which are towed behind a vehicle are already liable to VAT.
But Conservative critics of the plan have described it as "not much gain for a lot of pain". One MP who has met George Osborne and several members of the cabinet to lobby against the change said: "Whatever way you look at it there is no economic gain."
The rebels believe they can mount serious opposition to the plans, with the government facing the growing possibility that it could lose the vote if and when it comes.
Another MP who is involved in the campaign to try to force the Treasury to change its mind has claimed that the measure could open the door to French manufacturers - who they claimed are "sniffing around" for opportunities - if some British firms are hit by the new tax.
Last week the chancellor announced a u-turn on another VAT loophole measure first announced in the Budget. He said there would be full exemption for places of worship from VAT on the cost of repairs to listed buildings.
The so called 'steeple tax' was heavily criticised by the Church of England.