Tory MP Patrick Mercer won't face probe over pass for security firm head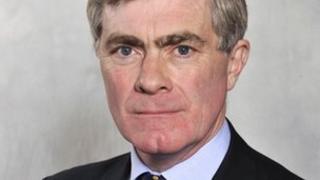 A Conservative MP will not be investigated by standards authorities over claims he broke Commons rules.
Patrick Mercer had been accused of breaking the code of conduct by sponsoring a parliamentary pass for the head of a firm he was being paid by.
Labour MP Thomas Docherty had asked the Parliamentary Commissioner for Standards to investigate the payments from security firm Clearwater.
But Mr Mercer says the fees he received for consultancy work were declared.
Last week, he told the BBC that none of his consultancy work for Clearwater had been conducted on the parliamentary estate, which would breach the rules.
Mr Docherty had written to the commissioner asking him to look at whether there had been a breach of the MPs' code of conduct when Mr. Mercer sponsored the pass, which was given to Kevin Horak, managing director of Clearwater.
That pass is now being sponsored by the all-party security group - which Mr Mercer chairs - rather than Mr Mercer himself.
The former army officer says all the payments from security firm Clearwater - amounting to more than £9,000 over a year - were declared in the register of members interests.
The Parliamentary Commissioner's office never gives specific reasons for a decision not to investigate, but the BBC understands that the commissioner's view was that the complaint did not identify which part of the code of conduct had been breached or give any evidence.
Labour's Thomas Docherty has told the BBC that he would be appalled if the rules allowed an MP to provide a pass to someone who they were being paid by.
Mr Docherty says he will challenge the commissioner's ruling.