Glass panel in roof of MPs' Portcullis House atrium shatters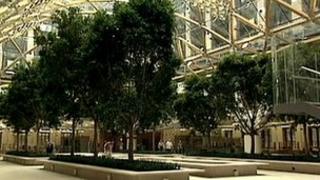 A glass roof panel has cracked in the atrium at Portcullis House - a £235m annexe to the House of Commons in Westminster.
Therese Coffey, Conservative MP for Suffolk Coastal, tweeted: "Great deal of excitement in Portcullis Atrium as a roof panel shatters."
Security guards have cleared the area beneath the panel in case it comes down.
The building, opened in 2001, has MPs' offices, committee rooms and cafes.
A Commons spokeswoman said the incident may have been caused by the metal frames in the roof expanding in the heat.
No-one was hurt and no glass has fallen to the floor, she added. Maintenance staff are making the area safe.
Reports on Twitter suggested a loud noise had been heard when the glass cracked at around 1430 BST.
The controversial building has been hit by problems since it opened.
Engineers had to be called in to fix the roof in 2004 and again in 2009 when it sprang a leak.
A National Audit Office report in 2002 found 7,500 defects, including cracked glass panels in the courtyard roof and 300 loose door handles.
The recent hotter weather was also blamed on Wednesday in a separate incident in which the roofs of four houses in south London - including one reportedly belonging to author Will Self - partially collapsed.