Leveson Inquiry: What new evidence means for Hunt and Cameron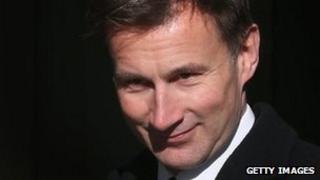 The memo Jeremy Hunt sent to the prime minister before assuming responsibility for the BSkyB bid reveals the extent of his sympathy for the Murdochs' ambitions.
"If we block it our media sector will suffer for years" Mr Hunt wrote to Mr Cameron.
It couldn't be much clearer than that. It wasn't the only time Mr Hunt expressed a favourable view of News Corp, but this is a significant new insight.
The question now for the prime minister is why Jeremy Hunt was chosen to oversee the bid in an impartial, quasi-judicial role, if he had taken such a clear position already?
Of course, Mr Hunt will continue to argue that once he had assumed the decision-making role, he acted with scrupulous fairness.
Torrent of information
Much of the evidence at the Leveson Inquiry on Thursday did indeed suggest that Mr Hunt was wary of expressing any private sympathy to News Corp.
A full day of cross examination of two key players in the saga didn't seem to produce an unambiguous "smoking gun".
But, with a torrent of new information emerging, there are certainly fresh questions for the culture secretary.
This is, after all, a tale involving dozens of meetings, and hundreds of emails and texts. The process of cross-referencing all the hastily written memos and half-remembered conversations is now underway.
Another key question is whether anything that emerged at Leveson directly contradicts what Mr Hunt told the House of Commons about his involvement with the bid for BSkyB.
Mr Hunt was asked in the House of Commons on 25 April how many "conversations" he'd had with the News Corp lobbyist Fred Michel, after reports they'd been in contact 54 times.
"None" Mr Hunt replied. But there were direct texts between Mr Hunt and Mr Michel - their personal relationship seems to have been formed when their babies were born in the same hospital on the same night.
In one text, Mr Michel congratulated Mr Hunt on his performance in the Commons. "Merci" Mr Hunt replied, "large drink tonight".
Before he even took his place in the Leveson hot seat, Fred Michel had emerged as a pivotal player. The publication of the News Corp lobbyist's profuse emails, texts and phone calls to Mr Hunt's adviser Adam Smith had made life deeply uncomfortable for the culture secretary.
Squirming
But at the inquiry, Mr Michel was the one occasionally squirming.
In answer after answer, he explained rather meekly - in his sometimes mumbling French accent - that nothing "inappropriate" had happened.
There was no sign of the charismatic and charming networker that his reputation as the Murdoch's chief political fixer in Europe might have suggested.
Instead, Mr Michel was forced to defend and explain a vast quantity of, sometimes strikingly informal, often tediously mundane, written and verbal exchanges that he never intended or expected to be made public.
So was Mr Hunt, in effect, acting as a secret cheerleader for News Corp's bid?
Mr Michel found ever more creative ways of saying "not exactly". He "couldn't say" whether Mr Hunt originally supported the bid. Mr Hunt's office appeared to give some "encouragement" but didn't express a clear view.
This was a fascinating insight into the opaque realm of the lobbyist - a world of chummy texts, late night phone calls and occasionally embellished emails. But amid the deluge of evidence, a single note could yet prove decisive.