Gay marriage: Nick Clegg at odds with Tory plan for free vote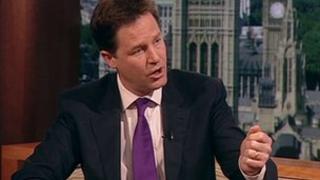 Deputy Prime Minister Nick Clegg has rejected Conservative plans to treat gay marriage as a "conscience issue" on which MPs do not follow a party line.
Mr Clegg said it was something he and his party believed in and would be voting in favour of in the Commons.
Tory MPs will be allowed a free vote to avoid a rebellion from those MPs and ministers opposed to gay marriage.
It means the two governing parties will be treating the issue - not part of their coalition deal - differently.
Mr Clegg said he did not want the vote to end up as a big "free-for-all", adding that "we are not asking any person with religious convictions to sacrifice anything".
He told the BBC's Andrew Marr Show: "We are simply saying those who want to show a lifelong commitment to each other should be able to do so."
He added that if it was an issue where the government "was proposing something that would somehow be an imposition on religion or the churches, then of course that would be a matter of conscience - we are not".
Commons Leader Sir George Young last week confirmed Conservative MPs would be offered a free vote, saying: "Along with other issues that involve matters of conscience, it seems to me perfectly proper that this should be subject to a free vote on this side of the House and that is what we plan to do."
Although Prime Minister David Cameron and a number of high profile colleagues are known to back gay marriage, there are some Conservative MPs, including front benchers, who have said they would vote against.
Staging a free vote means the PM's MPs will be free to vote however they want to, without instructions from their party and without having to choose whether or not to rebel - which in the case of ministers would normally lead to their resignation.