Nick Clegg: Fears of EU migrant hordes 'unhelpful'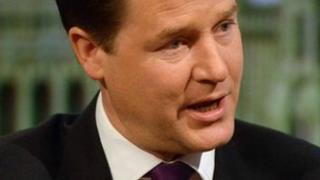 Deputy Prime Minister Nick Clegg says "breathless talk" of "hordes" of EU migrants heading to the UK if the euro collapses is "deeply unhelpful".
He told the BBC talk of the UK pulling "up the drawbridge" was "far-fetched".
Home Secretary Theresa May told Saturday's Daily Telegraph work was under way to deal with large movements of people if the currency breaks up.
Mr Clegg said Mrs May was only talking about something which the Home Office "quite sensibly keeps under review".
EU nationals are largely entitled to work anywhere in the single market.
The Home Secretary said if the single currency broke up, people looking for work abroad may see Britain as an attractive alternative as it is a non-eurozone country.
Asked whether emergency immigration controls were being considered, Mrs May told the newspaper: "It is right that we do some contingency planning on this [and] that is work that is ongoing."
BBC political correspondent Robin Brant said the government had some room for manoeuvre because there are rules in place for extreme situations which allow for some temporary restrictions on immigration.
Asked about the issue on BBC One's Andrew Marr Show, Mr Clegg said: "I really do think some of the breathless talk in the media about do we pull up the drawbridge to stop hordes of people migrating across Europe is both far-fetched, somewhat apocalyptic in tone and deeply unhelpful - we are not there yet."
Mr Clegg, who last week warned of the consequences of a Greek departure from the euro, said he hoped the country would remain within it.
In her interview on Saturday Mrs May said there was no evidence of increased migration at present.
Labour MP Keith Vaz, chairman of the Home Affairs Select Committee, said moves to curb immigration from within the EU were "fraught with dangers".
He noted that what was being suggested appeared to be a "short-term fix" whereas the eurozone crisis would be long-term.
And he warned against causing "unnecessary panic as people in Greece seek to move to the UK before any new measures are put in place".