Clegg addresses Tory MPs' dinner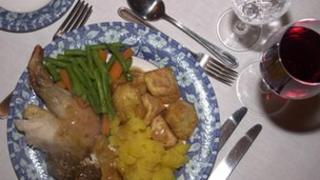 Whisper it quietly in the corridors of Westminster but attempts are being made to heal coalition wounds.
Many Conservative MPs are angry at what they see as the Lib Dem tail wagging the Tory dog. And many Lib Dems are angry at what they see as Conservatives pushing the limits of the coalition agreement.
But I have been told that a bridge-building exercise has begun to bring both sides together.
Last Tuesday, in dining room C of the House of Commons, Deputy Prime Minister Nick Clegg did something rather unusual. He addressed a private dining club of Tory MPs.
The Green Chip group was formed in 2005 to bring together MPs broadly supportive of David Cameron's leadership.
'Make a good Tory'
Mr Clegg spoke for about 10 minutes before taking questions, and many of the 20 or so MPs present said they had come away rather impressed.
One reported: "It was a reminder of how much we have in common. Nick was very clear that the over-arching mission of the coalition is to fix the deficit and avoid financial crisis."
Another said: "He wasn't as instinctively hostile to us as most Lib Dems. He would make a very good Tory."
One MP said Mr Clegg had been prepared to joke about his support for reforming the House of Lords. "It is wrong to say that I am obsessed with the House of Lords," he reportedly told the MPs. "I sometimes just wish it would go away."
Another said: "What came through was his antipathy to northern Labour. We didn't square all the potential problems of the coalition and questions about what we do in 2015 were left hanging. He isn't going to commit to any one party before the election but he made it very clear how he feels about Labour."
A Lib Dem spokesman said: "Nick talks to lots of different people about lots of different things lots of the time."