Do government U-turns actually matter?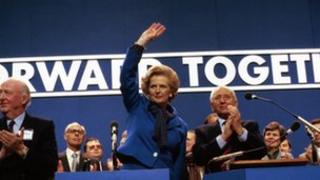 There is nothing opposition politicians and headline hungry journalists like better than a government U-turn. But does the public care?
"You turn if you want to. The lady's not for turning."
With an icy glare and a pun on the title of an obscure 1940s comedy, Margaret Thatcher let the 1980 Conservative Party conference know exactly what she thought of those who were calling for her to change economic direction.
She also gave birth to a modern political obsession.
The phrase "U-turn" began appearing in newspaper headlines in the early 1970s when then Prime Minister Ted Heath had to dump his free-market economic policy in the face of soaring inflation and rampant industrial action.
Mrs Thatcher and her supporters on the Tory right never forgave him for what they saw as an appalling display of weakness. She made refusing to do a U-turn the ultimate test of political virility.
And by sticking to its core austerity plan in the face of mounting criticism, David Cameron's coalition government can arguably claim to have met it.
But in all other respects, Mr Cameron has, critics say, presided over something of a golden age for what Mrs Thatcher called in her speech "that favourite media catchphrase, the U-turn".
Dozens of policies have been reversed or rethought since the coalition came to power.
'Gathering storm'
Everything from a decision to sell off Britain's forests to the £100m cancellation of a fighter jet contract has been branded a U-turn by the Labour opposition even when, in some cases, they were calling for it.
Some of these decisions can be put down to the normal business of government, as policy proposals are refined and tweaked through consultation.
But others, where ministers and MPs have loyally taken to the airwaves to defend a policy only to find it dropped a few days later, are in danger of giving the impression of a government that does not know what it is doing.
In the past week alone, Chancellor George Osborne has made three U-turns on policies announced in his March Budget - in response to lobbying from groups that would have been adversely affected by them.
Changing plans to impose VAT on hot food - the so-called pasty tax - and static caravans will not cost the Treasury much in financial terms, which is why they were easy U-turns to perform, but they have handed the chancellor's critics further ammunition.
As he announced his latest change of heart, on a plan to impose limits on tax relief for charitable giving, the chancellor said he wanted to concentrate on what really mattered, protecting Britain from the "gathering storm" of global economic grief.
'Full-time chancellor'
His claim might have carried more weight if it had not also been revealed on Thursday, at the Leveson Inquiry, that he had found time in his busy schedule, in December 2010, to get involved in the decision to hand control of the BSkyB bid to Jeremy Hunt.
Some Conservative backbenchers have told the BBC that at a time of huge economic crisis Britain needed a "full-time chancellor" - a swipe at the fact that Mr Osborne spends part of his week working on political strategy.
Lib Dem peer Lord Oakeshott went further and said Mr Osborne and his Lib Dem chief secretary Danny Alexander having difficulties because they were "relatively new to politics and have not had business experience".
There is also concern that the coalition appears to lack a coherent strategy beyond cutting the deficit, and that, as a result, it is too easily pushed about by lobby groups.
The chairman of the Commons Treasury Committee, Conservative MP Andrew Tyrie, said the string of U-turns would encourage "vested interest groups" to press for concessions on measures in next year's Budget.
'Proud'
But do the public actually care about U-turns, provided the government gets the policy right in the end?
Research by Ipsos Mori suggests two-thirds of voters want a prime minister to act mainly "on the views and opinions of the general public to make decisions", as opposed to a third that want a PM who "trusts his own judgement and experience to make decisions".
Mr Cameron has said he is "proud" to lead a government that listens to the public and expert opinion rather than ploughing on with poorly thought-out policies.
The danger, for Mr Cameron, is that the media and the opposition are now on permanent U-turn watch.
A flurry of excitement on Twitter earlier on Friday, about a supposed U-turn on taxing waste dumped in skips, being the latest example.
It was dismissed by the Treasury, with no pun intended, as "rubbish" - just a re-issuing of existing guidance.
But the newspapers and Westminster commenterati appear to have taken a different view.