Lady Warsi has questions to answer, says prime minister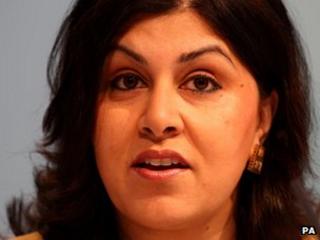 Conservative Party co-chairman Lady Warsi has "questions to answer", Prime Minister David Cameron has said, after allegations she failed to declare a business interest.
The Sunday Telegraph reported she did not declare her directorship and majority shareholding in a spice company.
Lady Warsi denies wrongdoing, saying she followed the rules.
Labour wants the police to investigate separate allegations over allowances.
The paper said February accounts showed Lady Warsi held 60% of Rupert's Recipes' shares, two months after she entered the Cabinet.
In a statement, Baroness Warsi said: "My shareholdings and, before becoming a minister, directorships have at all material times been disclosed as required on the Register of Lords' Interests and to the Cabinet Office and on the register of ministerial interests."
According to the Lords code of conduct, members must register share holdings in firms in which they hold a controlling interest or if they are valued at more than £50,000.
Asked by a reporter if the baroness had acted improperly, Mr Cameron said: "I am satisfied that there are questions that have been raised and there are questions which have to be answered. I am satisfied that will happen."
Separate investigation
Lady Warsi is already being investigated by a parliament watchdog over separate allegations that she claimed accommodation allowance while staying with a friend rent-free.
Lady Warsi, who is a member of the cabinet, has said she made an "appropriate payment" to her friend - now her special adviser - Naweed Khan, who was renting the house in which she stayed.
But the owner of the property in Acton, west London, Dr Wafik Moustafa, said he never received any money from her.
She has now referred the allegations to the Lords commissioner for standards, Paul Kernaghan.
A spokesman for Mr Kernaghan said he would conduct "an initial assessment" of the allegations to see whether they were within his remit before deciding what to do.
Labour MP Karl Turner said there were "serious questions to answer" and has urged the police to investigate
Mr Turner said: "It appears that Baroness Warsi may have claimed for expenses which she did not in fact incur, and that a criminal offence may therefore have been committed."
He has written to the City of London police asking them to undertake an inquiry into whether Baroness Warsi or her aide Mr Khan have broken the law.