Missing Ministry of Defence property detailed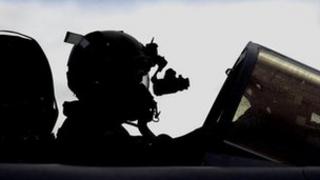 Ammunition, 20 pregnancy kits, morphine and a synthetic tiger skin were among military property lost or stolen in the 12 months to March, MoD records show.
Other missing items included weapons parts, 11 laptops, televisions, night vision goggles, copper piping and fuel.
The data was in a ministerial reply to Labour MP Jim Murphy, who said the amount of missing Ministry of Defence property looked reckless and careless.
The MoD said it took the loss or theft of equipment "very seriously".
It said it worked hard to detect and deter theft.
"Strict processes and clear instructions are in place to raise awareness of the need for vigilance in all aspects of departmental security," the spokesperson said . "Where theft does occur and a suspect is identified prosecution or internal disciplinary action will follow as appropriate."
The MoD said the statistics did not include cases where the offender was identified and the property recovered or where someone was cautioned.
It said many of the metal thefts had taken place in married quarters - which are open to the public - rather than protected military establishments.
In its ministerial reply, the MoD said it did not record estimates of replacement costs for lost or stolen property.
Mr Murphy said it appeared "equipment the size of a small country's arsenal" had gone missing.
"This has a cost to the taxpayer and is potentially very dangerous," he said.
Mr Murphy called on ministers to explain and do more to prevent items being lost or stolen.
MPs' recommendations
In January, the Commons defence committee said £1.9m worth of military kit was stolen in 2011 and £19,000 worth recovered.
MPs said the MoD needed to tackle equipment theft "with a greater degree of vigour".
It recommended the ministry clarify the roles of police and security forces dealing with fraud and theft and provide more information on how the issue was being managed.
The MoD said it had set up a defence crime board and issued fraud awareness education and the permanent secretary at the MoD told MPs there was a balance between security and deploying kit quickly.
Senior military officers said the 150% rise in annual thefts, to 433, was partly due to better reporting of crimes.